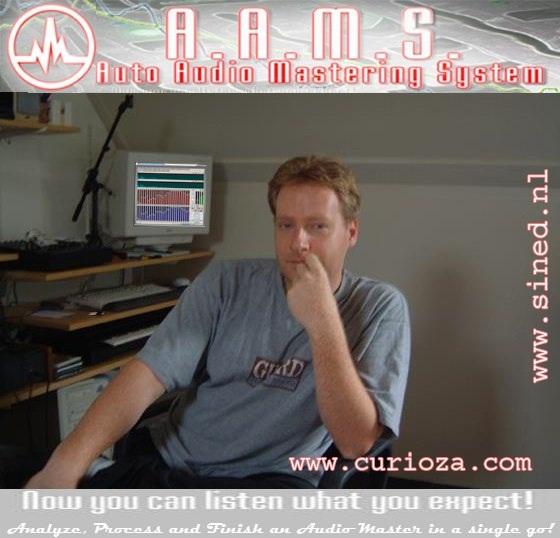 Hello, I am the Author of AAMS Auto Audio Mastering System. AAMS is audiomatic audio mastering software for windows, you should take a look at it. 
Personally i am intrested in making music and spend quite some time into composing, mixing, mastering and production. For myself and others. 
I review software and plugins i use for mainly for Composing, Recording, Mixing and Mastering / Production, etc.
.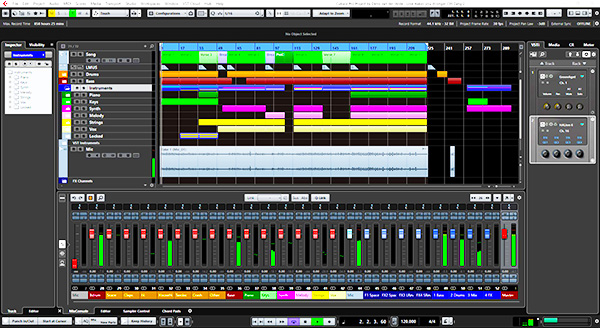 Youtube Channel Playlist of Cubase
Cubase is the software Digital Audio Workstation for me as far as it goes. What Steinberg did to the Music world was run music as software on a computer, and that was an instant hit. Still maybe not what you might want, maybe DJ's and other gear or software exist. Cubase is still the DAW to go for and that is because you can do almost anything with it as far as it goes for music creation, mixing and had all the tools inside. In depth is Cubase a monster but not an angry monster. Allthough Cubase still needs to keep up to other software. As like now days there are many of them DAW's available for Windows and Mac. Like Fruityloops, Pro-Tools, Ableton, Reason, etc. I started out with using a Audio Tracker like FastTracker that is a more pattern based music and one shot sampling system that runs under DOS. But Cubase was always my first choice. And still is. The main reason is, it works great with midi and audio (sampling and streaming). As in FastTracker with musical samples and patterns, midi and audio are well taken care of with Cubase. So in combination with Halion and Groove Agent it is my main production house, because i sample all. Not only Cubase in what version you take it or what year since it came out, it did Midi and Scoring, Audio, and maybe the main thing boom was VST plugins and ASIO Drivers. That made the change for like audio software BigTime. Be sure to have the TrackSpacer pluging below. Including Wavelab as a more audio editing tool for samples. Also Kontakt and Battery are great for use as Samplers. What VST or running Plugins as Intruments and Effects, Cubase doe it all and even much more. I tend to do things in midi with samplers playing the audio instruments and not recording the track with audio. So my system is more Midi and Plugins, instead of recording audio. I only record Vocals as audio. So everything stays editable in Midi and Audio, adjustable and midi note wise i can change anything at any time. But that is more of my own choice, because soundcard ASIO latency is always on the ride. So much processor speed is needed for this kind. And Cubase does best on a modern computer, SSD, Memory and Speed! You can run projects with many effects without any probs. As far for a mordern DAW Cubase does the job very very well. Until you reach the limits of your computer, mustly that is processor speed. Though it can be a hassle to learn it all, becuase Cubase is packed with tools and options and editting posibillities. But sure Cubase has a big big fanbase in the world. Sometimes i just step to Renoise or Maschine Plus for good simple steady fast anf fun compositions. But Cubase is still the one to edit all and mix all. It is a one stop go machine, but takes sometimes the easyness out of your hands and make you pull your hair out when things go wrong or you have to read the manual to see how it exactly works. Or working with mouse and keyboard gets me bored. Also to really have a backup of your song mix track, Cubase does not save all data to one file. And with the wide third party plugins, your song can be later damaged when you dont have all the files, like samples or plugins on your system. Instead it saves the song mix track, but presets, vstplugins, samples are loaded from their original location. And it is a hassle to have it all, in one directory or backup. Ten years later and you song track might reload not as good as it was. The directory you save your song in is a good place to have all samples and vstpresets in. Else afther a few years and a new computer system, your track might not load exactly as it did. Therefore Renoise is a good option that saves in one single file. Cubase does not and that can be messy filesystem in your directory and in future you might not load a track into Cubase that is an exact copy of before. So is it not with everything ? So Cubase is that good, and i recommend it for everybody that want a good DAW in software. Also with any DAW on a computer watch the latency and get a good enough soundcard. Like always you will run out of processing power very fast using effects and instruments. So while Cubase can do allmost everything, it is also dependant on the computer system you have. Any flaws and speed interruptions of you computer are anoiancies. It will be never enough, until you can buy all the processing speed you want. Stil most computers or laptops on the expencive side will do nowdays to make great music.
With millions of musicians, producers and sound engineers around the world using Cubase every day, Cubase is one of the most popular digital audio workstations of our time. Due to its pristine sound quality, intuitive handling and unrivaled range of advanced tools, Cubase is not only considered by many users as the most complete DAW on the market today, but also sets the benchmark for contemporary music production software. Covering all stages of the creative process from composing, recording, editing and mixing, Cubase excels with intelligent tools and features that put creativity first. Offering maximum flexibility, Cubase does not impose a certain workflow onto you, but provides the freedom you need to push your creative envelope. Every musician is different, and every project is unique. Leveraging off our decades of experience in providing solutions for creatives of all stripes, we listen carefully to the needs and requests of our users and innovate features that inspire and generate real-life value. Free customer support, regular maintenance updates and an open, constant flow of communication with our customers are the firm pillars that uphold the strong relationship with our customer base.
. 
Native Instruments - Maschine Plus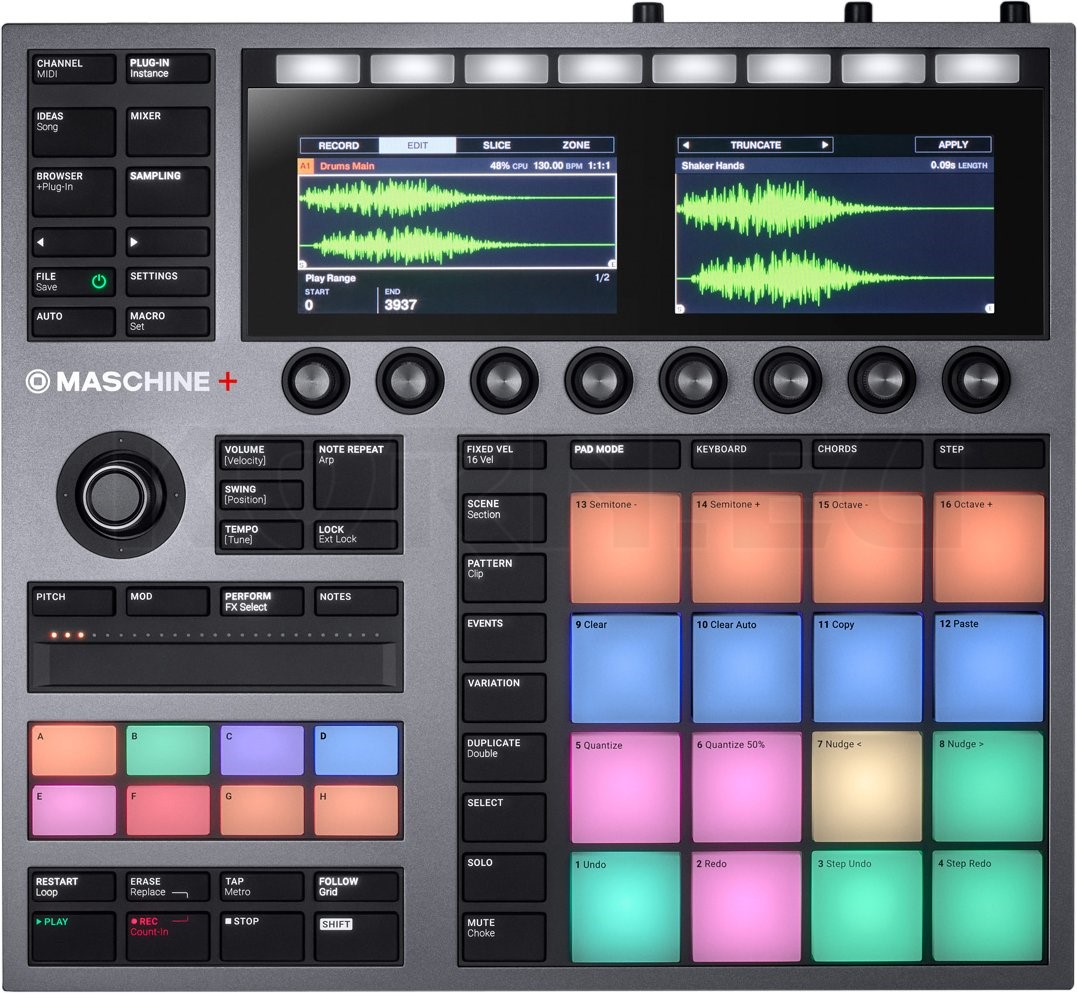 If Akai MPC was the base of all Rapp and Production music boxes, this NI Maschine Plus Standalone has smashed Akai and taken that market. Or did it not ? Well we have a lot of tools in hardware that basically have a lot for them. And the Machine+ is just as good. Depending As an overall DAW it is Standalone and has all features of the MPC form and a DAW software. But don't look at it as a software DAW (Digital Audio Workstation). The most good of this Maschine Plus is the very very Low Latency! As of most computers runs soundcards and have Latency, the hardware Machine Plus has one big favor over Software and a Controller, that is allmost no Lantency. The Machine Plus is not a DAW in software, it is another form and workflow and speed, that a DAW on a computer just can't do. The Pads and connecting Midi to the Maschine Plus is the main thing as input and it is all very responsive. The Machine Plus fits the range of usefull and smart development alikes of Akai MPC's and more comparable alikes, makes the Maschine fit in that row more. Some say it is the MPC killer, because that is that MPC that had run the buzz all these years. Hardware and software music creation tools in a single box, a hardware box. If you like fiddling with knobs and buttons and be fast underway, have big libs of sound and effects. Also touching something else like a Mouse of a computer alltime, the knobs, Pads and every butten, switch or knob, like mixing or creation of music by Hardware in the 60's and 70's. It is different, and the Maschine Plus is really not a DAW but is made to sit down, make something and have no worries at al... Afther opening the packaging and setup the NI Machine Plus, i found myself within minutes having a beat running, baseline and some pads sounds. In fact it is like the MPC a toolbox creative and very fun, enjoyable at least. And that is how it should be. Since i work with the Machine Plus is has taken me off the DAW software and have lots more fun and enjoyment. People who like a Mouse and DAW Software on a computer, dont buy this! But every one else that wants a tool for creation and mixing, this might be the one. Sampling! Only backdraw is no battey, so you cannot use it underway in a park or where you have no power supply. Basically this is a DAW computer in a box, so power it needs. There are also a lot of other companies with simelar hardware boxes, and they are all mostly very good and fine. But very well done by NI to bring this thingy out. I simply love it! One of the drawbacks could be lack of processing power, so do not see this thing as a fully fledged daw, it hass all functions of a DAW, but if you start using all, then it will lack the processing power. Setup to much effects and instruments, you lack power. But the way to do this is offcourse Sampling. That means with ease you can play a synth on the machine, but you can straight away Sample it, drop the instrument and take the sample. That saves processor power, and really like the MPC was, Sampling machine. The main succes for me with the lack of a DAW and processing power, is that it will focus you more on the job with the Machine Plus and that is what this is all about. The knobs and hands on fast workflow is making music fun and you get a lot more now control. I say enjoyment. On a DAW you can get obsessed by using more and more sounds and effects and instruments, you soon will fly on the space you have and forget the details. While mostly this much options and power, will just get you into more trouble. Focus on the sound and what you do with it musically is more important. Fiddle with the sound (edit the sample) and you have plenty of knobs and controls to do so with the Machine Plus. Allso chopping of samples it it is drums or music play (like guitar play). You can chop up samples on the 16 pads so fast, and that makes you get control over music with 16 pads chopped up samples. So basically with like 6 to 8 instruments (samples) and some drums, you are off and you will focus on music making more and will me to the point. Setup fast and the play live with the machine, pump in beats, baselines, what ever, and once in the flow it might be you create a song from scratch straight in one go. It is possible! The build of this thing is remarkable strong and good. The Machine Plus is offcourse in for a processor update and will offcourse get faster, because a lot of users that come from a DAW and a fat computer, will complain at Native Instruments door and be unhappy. But this is not really way the things here in history, Machine Plus builds basically on the MPC like history and catches on very well. With the machine plus you get something else (back) and that is simple basic music making in a very great and creative machine. Forget that it will run out of speed, it will bring you back to simple fast music creation. Sampling, editting your sound, turn knobs, puch the pads and rock on it, you allways get something. One of that is the multiple connections with keyboards or connection with the OP-1 or other gear. And the other is the seamless recording you can do on the fly, just setup instruments and record live just in a few takes. This is not a DAW, it gets you into the box and out of the box, into the fun stuff.
Standalone Hardware. The workflow. The sounds. No computer necessary. MASCHINE+ is a sampler, a drum machine, a synth, and an on-stage superpower. In short, it's whatever you make it. Leave the laptop behind, jam with your other gear, and create beats in minutes with a wealth of on-board sounds, instruments, and effects. It's the iconic MASCHINE workflow, with fewer strings attached. Standalone means more focus, more freedom, and more music making. Plug in, power up, and get creating straight away in the embedded MASCHINE+ production environment – from first ideas to finished tracks. Dial in effects to tweak your sounds, or sample audio and make it your own with an intuitive interface designed to keep the creative juices flowing. And if you want to bring your ideas into a DAW, copy them over, and boot up the MASCHINE software on your computer to pick up where you left off. As well as its classic groovebox workflow, MASCHINE+ includes MASCHINE+ Selection: A dedicated package of nine synths and sampled instruments, 35 effects, and seven Expansions (including two of your own choosing) that work seamlessly in standalone mode. It includes heavy-hitters like MASSIVE, FM8, MONARK, PRISM, the MASCHINE Factory Selection, RAUM, and PHASIS. That means its 16 pads can sound like a dusty vintage drumkit, a warped wavetable lead, or an organic modal synth – pretty much anything you can think of if you flex your sound design skills. Whether you're digging records or ripping radio edits, record any sound into MASCHINE+ and quickly chop and stretch the results into your own custom kits. Or transform and twist them in real-time with the Audio plug-in. The same goes for guitars, vocals, drums, and anything else – more sounds means more creative ways to make music. Bring real expression to live performances with intuitive control over your music – tap out beats, run arpeggiators, or tweak synth melodies in real time. MASCHINE+ is an intuitive live sequencer, a fully-fledged groovebox, and a powerful performance synthesizer rolled into one.
.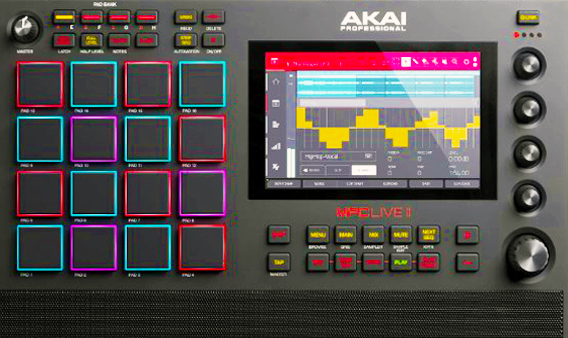 The AKAI MPC Live 2 is about all hands on carry with you, all in a box. A groovebox on steriods! First of all that MPC Live 2 has a build in Battery up to 5 Hours, build in quality but small speakers. That is what is missing with the Machine Plus, is not missing over here. You can carry it and use everywhere! The other thing is more of a user related thing, youtube videos seem to be all Rapp RNB related, boom tjack! But there is offcourse the whole MPC range in this box and you can carry it everywhere, that is the trick here. No computer needed. And you get all that you need and even more. It had me stunned for the first month, because i do not seem get up with it so fast, as i am not a MPC user before. Then it will take a while, how this thing funtions, as an under experienced user. The way you can assing multisamples to one pad, ment i just set the chords and the pads. You can play piano chords and never miss a key. Also per multisample you can have each volume of the played samples adjusted on the pads. So that was new for me, as it is not a drumcomputer, but a real DAW. What fascinates me still the most, is carry it anywhere and you dont need anything else to bring, 5 hours of fun on this MPC still baffels me. Some say it is not a DAW and surely it is allmost. The thing is build sturdy and the sound out of the speakers is great. Also the extensions by SATA SSD under the bottom plate and SD Card, give you plenty of space for files and samples, etc. Right away i placed a 1 GB SSD disk into it and transferred my MP3 collection of 120 GB and Samples Sorted about 18 GB. So what is on my computer at home is now also on the MPC. Maybe they should have an MP3 Player build in, because the speakers are that good for a party! In difference of the Machine Plus, the MPC has all functions related to MPC users and they will kickstart right off the bat. Though system wise the Machine Plus might be with a faster workflow, it all depens on what you need. Are you a MPC user in history, now this is the thing to get. As allways like the Machine Plus, the MPC seems great and fast, allmost there is no latency (like my computer does still). The MPC comes with some sample packs inside, but to say that is so great, it is not so great. Better have you own samples ready or packs. Also the Touchscreen is very good and gives some better views than the Machine Plus. I like both Machine Plus and MPC. There are differences though, unlike the Native Instruments Machine Plus, the MPC Display screen can be quite fiddly. While the Machine Plus is more to the point and straight forward. And see this as the first real Battery Speaker DAW you can carry everywhere and that makes it for me the first real portable that does it all. Complaints ? Not really afther the 2.11 update you get a lot of worth for you money. Allthough Akai should make their website cleaner and the files easyer to download. To me as i have the OP-1 sequencer is less comprehensive (tape 4x tracks), the MPC with it's seqencer midi full and audio and you carry it everwhere wins. Also the Firmware Updates are regularly. It is very very good!
Meet MPC Live II, the full MPC experience in its most portable configuration yet. Everything you need to make music, anywhere, right at your fingertips.
There's no need to compromise for portability. MPC Live II is the complete MPC experience without missing a step. A rechargeable lithium-ion battery means you can work anywhere for hours. Full-size MPC pads give you the ultimate in drum performance and the expanded function buttons allow for quick editing on-the-fly so you never miss a beat. For the first time ever, you now have studio-grade monitors built-in directly to your MPC. No need to waste precious time looking for your headphones, untangling cables or powering up external monitors. These full range stereo monitors deliver low end thump along with tight top end to make portable beat-making the sonic experience you need to feel your music. MPC Live II integrates into your creative space with all the ports, jacks and connectivity you need. USB 3.0, 2x2 MIDI, CV/Gate, 3 stereo outs and more. WiFi and Bluetooth connectivity make for a completely wireless workflow. No matter the device, MPC Live II is ready to get connected! MPC Live II will super charge your production. With MIDI performance to tap in to as many devices as you need, an intuitive and streamlined layout not to mention the MPC workflow features you need; 16 Levels, Note Repeat, Auto Sample, Chords & Notes More and so much more. Get ready to level up to the MPC Live II.
.

What to say about the OP-1? There is still a lot of discussion about this little and handy thing. And that is good, you like it or not. Does it all what you want ? Ahum. Well it has a battery that wont die in 16 hours of full use. It is a Synth and Drums, Arp Step Sequencer and 4 Track Recorder and a record player, radio. Some want to compare it to a DAW or other tools,don't because it is offocurse not. But basically it is handy fun fast and does not really compare to other DAW or Tools. The best thing is you can carry it with you, it does not need anything else but You. And a headphone, though the little speaker will do (you dont hear any base, hahah). If you doubt it's capabillities, once you have it, you never knew why you ever doubt it. The only real missing is a Midi Sequencer, you can only record into or onto the 4 tracks of 6 minutes of tape. Also why did you buy this thing? It is sturdy also, mechanical and software wise. The price is high, maybe stupid, because it is a one of a kind. It is for me, but is it for you? Yes surely. But it is not a complete DAW, it is a handy tool to make music with and has all features you should expect of it. But it is also different and awkward. Does it have it all ? No, but it does work very well for all people loving Drums, Synth, ARP Setp Sequencing and Recording. Like the MPC or other keyboard, but in a small box. Sampling is also here every well done. The effect and synths are maybe a little strange sometimes, but into not knowing what you actually doing, turning the knobs can change the sound into something else.Make music on it. Then transfer what you have done to a DAW. Or make music, sample it and you the samples in a DAW or re-use it straight on the OP-1. It is a good sampler and has some good editting features. You can make a song, track, music and have loads of fun with it. Enjoyment i say again. While you should ask, how did they think programming this thing ? Or what did they use ? Drugs ? No, prob. not. While making this OP-1. It is a Casio on steriods maximum. Loads of fun and serious toys within. When you buy this thing the first time it is off the wall funny, then after a while you think it is not a toy anymore, then later on you cannot do without it. You get hooked or you will sell it on. Depends on who you are and what you want to do in music creation. So be carefull, you might get hooked, or say 'why did i buy this?'. It is the to take away thingy that goes with you, when you go outside, or sit on you couch or bench at home. You can use it anywhere it starts in seconds, and you can do your thing again. And the fun and enjoy you have from it, will last for years. It is a Toy! And it is also very serieus fun, it has 99% of what you want. You could only wish they had a full midi sequencer, and yes the tape recording survives, it lacks also, it is surely not a DAW. Also the OP-1 will bring back at your fingers, at a sample or synth level, adjusting is so much fun on this thing. Also the USB connectivity is like connecting to other gear, as a midi device or audio device. The effects and setup of the OP-1 is so wierd but yet playfull, recording stuff into other gear like sampling maschines is very welcome in the last firmware update. The bad thing is that when you see Youtube Video's about the OP-1 allways it is some king of chopped up sampling RBD Rap beat, it seems that people allways post this kind of stuff of the OP-1. The OP-1 is surely more than some sample chopper and beat thing. Also the other side, if you like Midi Recording on the OP-1 ? There is no midi recording at all, it is all 4 tracks of audio. So if you like to play on the OP-1 and send midi to another device, ok. But OP-1 records no midi, it records audio. The missing of a good sequencer has the OP-1 stuck with me, cumbersome and really needed, but it is not there. Instead only 4 tracks of audio recording, makes it a bit clumbsy and unfortunate of being perfect. Maybe at first glance the OP-1 is quite remarkable and it is joy but takes time before you get the flow, and how it works. Then the real fun begins!
OP-1 is the all-in-one portable synthesizer, sampler and controller. with additional features like a built-in FM radio and an assignable G-force sensor for motion controlled effects, there is nothing quite like it.Its modular architecture enables endless sound possibilities without making the workflow complicated or distracting. The compact design and real physical interface makes it inspiring to create music, no matter who you are or how experienced you are. With thirteen synthesizer engines, seven high quality effects and multiple routable LFO's, you'll never hit the wall when it comes to creativity or finding the right sound for the job. add the unique built-in sequencers on top of that and you'll understand why so many highly regarded producers and artists hold this little machine so dear. In controller mode, OP-1 turns in to a full blown MIDI controller, with access to transport (play/stop, rec, rewind and forward), a two octave keyboard with four endless encoders as well as a sound module that can be controlled from virtually any external software. Record anything you create with the 4-track tape feature. match the tape speed to the sequencer tempo for some really nice overdubbing. change tapespeed while recording, or record backwards in realtime. switch to the 4 channel mixer and add some punch with the built in EQ and compressor. Finally, create a live mix in album mode on a virtual vinyl. Use OP-1 to synchronize your pocket operators or connect it to any other gear using MIDI over USB. when you connect OP-1 to a computer using the included USB 2.0 cable, the OP-1 shows up as a MIDI controller or a storage device. if storage device is selected, just drag and drop audio files between your computer and the OP-1. all 4 tape tracks are available as well as the drum and synthesizer samples. everything ready for you to tweak or add to your DAW. no additional software or drivers required. just plug and play. You can travel the atlantic ocean and back again, constantly making music on your OP-1 before it runs out of power. with over 2 years of stand by time, you can pick it up and create whenever you feel for it. Charging is easy with the provided cable plugged into any computer or phone charger that has a USB connector.
.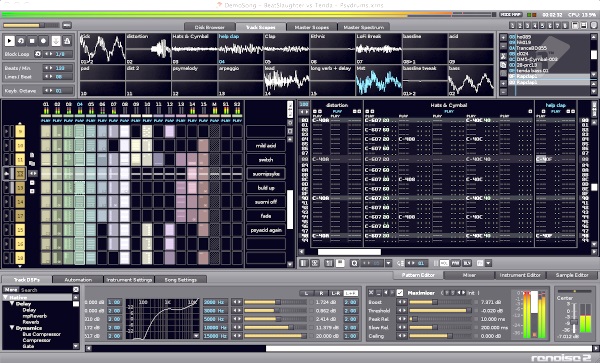 Renoise is build to be a DAW that does things very fast and very easy. And it is a bombshell with possibilities, full features like any other DAW. You might think we have to goto other DAWs to get things done. But this is the first software i turn to, too create music and is my start of every new track. It may look some kind of awfull to modern DAWs, but it shines in having all tools. Compose wise for listen drums samples and add samples, even an sample audio  editor is build in. It is easy to start a song with finding samples you like and add them, start a pattern of drums, set a drumloop and slice it. It all all possible and at hand straigh away. Composing is more easy because all is the same. It is all samples and play notes or insert them with the keyboard. It takes flawless midi timing from a midi keyboard and records it straight latency spot on. Husting around with patters and turn sounds on and off, make you find a song building contruction kit, that is easy and works like a charm form me. Special attention is for all who where into Audio Trackers like Fasttracker, you can still use the old modules and all is still working. From the old days and from what this software has become to, it is my favorite starting poing and with such easy workflow, sampling and editting. So the nr.1 for me. But, the sofware is great DAW, the support and getting onto the Renoise Forum is beating me to the ground. You can send emails for support, you get no answer. The software is not updated / website since 2016. So when you need good software this Renoise is great! But when you want support / updates and a good forum, look somewhere else and then dont get it. But the Renoise 3 version is so stable it does not crash and do weird things at all. That is why Renoise 3 is so workable and you can trow all kinds of sound in, the processor wont give a budge. So it is that good for creating tracks and create compose a song. For mixing you can do a lot in Renoise 3, but for an end mix it might be better to goto Cubase before you get it mastered and finished off. It is not an expensive buy and there a all kinds of plugins inside renoise and it loads VST plugins with ease. So it is a DAW but foremost a tracker. But i like the tracker system better then many other DAWs. As for of searching sounds and samples, adding them and edit them, renoise is a one solution! Pattern and Notes is simple and easy to work with, that i am way more accurate and faster then modern DAW systems, just because all is under the keyboard or your mouse. Renoise saves all data the whole song, mix, samples, all under one file. So that means clean directories and a tidy system. Also for tracker lovers, yes your older XM files will load perfectly and run and sound like it was before. Renoise is that good, but like allways an outsider in the software DAW industry.
Renoise is a Digital Audio Workstation (DAW) with a refreshing twist. It lets you record, compose, edit, process and render production-quality audio using a tracker-based approach. In a tracker, the music runs from top to bottom in an easily understood grid known as a pattern. Several patterns arranged in a certain order make up a song. Step-editing in a pattern grid lends itself well to a fast and immediate workflow. On top of this, Renoise features a wide range of modern features: dozens of built-in audio processors, alongside support for all commonly used virtual instrument and effect plug-in formats. And the software can be extended too: with scripting, you can use all of your MIDI or OSC controller to control it in exactly the way you want. Whether you're an audio veteran or just starting out, Renoise is a fantastic addition to any bedroom or professional studio.
.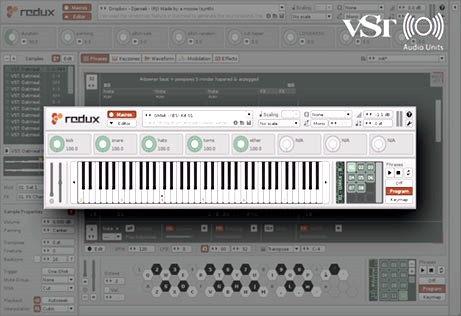 Redux is a great sampler that you can use with Renoise 3 or any DAW or VST host. The twist is that Redux is a sampler that can do a lot of things many modern music makers need. It is like an Arp Samples but that does not even cover it, it can do to sounds samples what you want, because just like in Renoise 3 it has got the same kind of track system like Renoise. It is a sampler within a sampler and it does wierd things and very workable sound malipulation. All within the beat so you never mis it. And good things are, manipulation and easy sounds. Just like Renoise you are up and running fast and will love this otherwise cheap sampler. If you have Renoise get Redux with it. If you need an affordable sampler that works well, get Redux. And you are into one key playing loops, many sound and patterns, it is mind boggling to play on a keyboard some notes or chords, it rocks the mind and breaks it trough. But when you want support / updates and a good forum, look somewhere else and then dont get it. Otherwise i do not think there is a pattern random samples that arps like this thing does! Like Renoise it is a not known and used sampler, but this thing is a mix between Renoise, a tracker, a sampler. And that makes it very ARP feeling, like the MPC or Machine Plus or the OP-1. It has some very good and creative fast workflow that works very well. Setup the patterns and you can play the samples, patterns on any keyboard or drumpad etc. Very good sampler, but basically very unknown.
Redux is a sample-based instrument, combined with a powerful phrase sequencer. Enjoy the full-featured MIDI implementation and performance-friendly features, for the first time available outside of Renoise. The sequencer in Redux is closely integrated with the instrument, and used to create musical phrases. These phrases are controlled via notes and program-change events, and allow you to alter the playback in a variety of ways.
.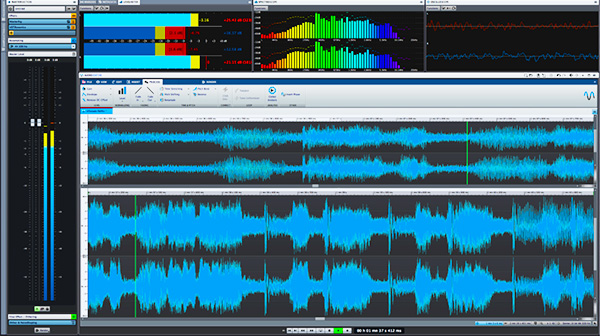 Though Wavelab is the basic industry audio editting tool, it laks also some modern features found in the MPC, Machine Plus, or other software can have. Steinberg has mainly first focussed that Wavelab is an editting tool and mastering tool. Lets say what a recording studio needs. But it has got all you want for that. My fav tool, but there are some more software companies doing good jobs in the same sector. Also you would wish that Wavelab was enbedded into Cubase. But they are two separate software packages. Wavelab offcourse laks Midi or Instruments, but is a great audio editting tool.
For more than 20 years WaveLab has constantly pushed back the boundaries of what is possible in mastering, audio editing, restoration and analysis by including features carefully crafted for mixing and mastering studios, post-production facilities, sound designers, musicians, journalists and broadcasters. Its comprehensive set of features, customizability and outstanding audio quality are the reasons WaveLab became the world's most popular professional platform for audio refinement. WaveLab Pro 9.5 introduces many improvements for mastering and editing workflows as well as carefully selected features for audio refinement and polishing. Ranging from a top-notch Spectrum Editor to the new restoration plug-in suite to the unique Audio Inpainting technology alongside a redesigned and enhanced plug-in set — WaveLab 9.5 is a quantum leap in audio quality.
.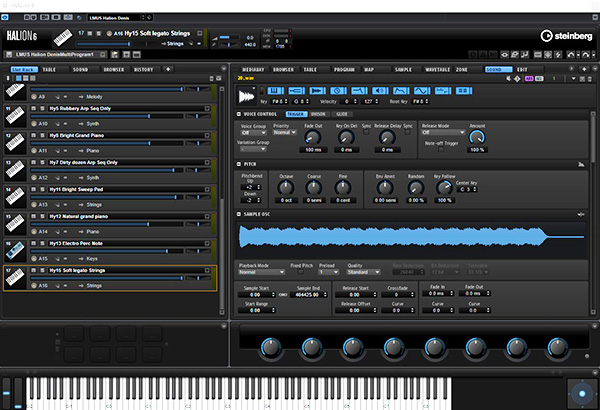 A sampler is the one and only real instrument that i use, because i like to sample everything. Everything means, i use VSTi Instruments as synths and all kinds, but i sample then into a Sampler. Also to save processor power, drop the instruments and use the sample. The way you can adust per sample volume and panning is keeping it all good for stereo. And just checking and positioning samples recorded from the VSTi Instruments, layering samples over keyboard or pads. Halion is great to adjust the sound while it is still in its main stage, the sample. This gets you focussed on the sample instead of the effects. Also with sampling like Halion and Groove Agent, samples are greaty manipulated by using Wavelab as an editor. And Halion as a Sampler has lots of good tools by itself. Like Sample recording and chopping them up. Batch processing of Samples from one Sampled Instrument is a good way to get rid of plugins you would otherwise in your DAW and take up processor speed or latency. Sampling is the way to go for me and Halion is the main insert for use. Samples are much easyer stored in a folder and to backup. Halion is far more then just a sampler, its a sampler on steriods. Though they might say NI Kontakt is the industry sampler nowdays. Halion is a very good sampler.
Halion is the most comprehensive virtual sampling and sound design system available today and excels the present creative process for producers and sound designers in all areas.It covers the complete creative workflow from recording and sample editing to programming advanced synthesis and modulation setups. With Halion, create customized user interfaces and export ready-to-release instrument libraries with every step streamlined to the greatest extent. The powerful set of oscillators for seamless sample playback as well as the next-generation synthesis make Halion a versatile creative tool in simply every situation. Its broad library includes thousands of high-class and deep-sampled instruments and cutting-edge synthesizer sounds for all kinds of musical genres.
.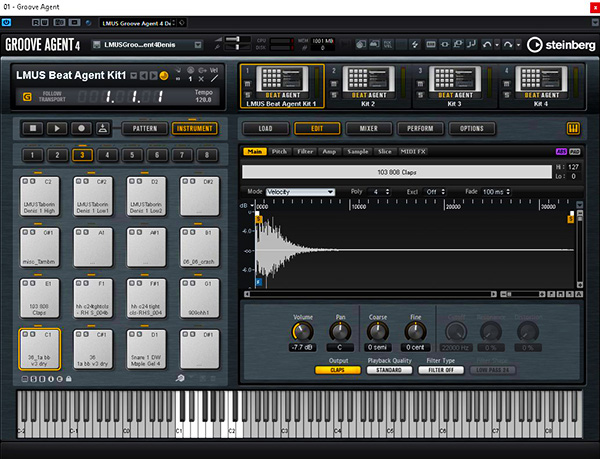 Steiberg Groove Agent on Youtube
As for having a sampler as a Drummer or Drumkit, Groove Agent has it all. It is for sampling and manipulation of drums really effective by playing patterns with midi notes. Or just playing midi notes and hear drum samples directly. The drumsets by installation give a good view what this drum monster can do. For me i like to sample everything as well as drums. But Grooving with this tool is so enjoyable and gets clear and effective realistic sounding drums, just by rithmicly playing on your keyboard or midi controller. Steinberg has done a good job getting into the MPC world, like NI with Machine did. The one to go drummer for me. But really it is samples, why not put something else on the pads, like paino or guitar. But for drumming sampler it is not a mistake to buy this one.
Steinberg's easy-to-use yet powerful drum studio is the ultimate source for any kind of drum production style. Look beyond your standard workflows and get creative by combining electronic beats with warm acoustic drums to produce your individual sound. Groove Agent 4 redefines "virtual drummer" instruments by allowing you to combine up to four of the included drum Agents — each a specialist in their own field — with each other, opening up completely new ways of creating drum and rhythm tracks. Each Agent draws on a massive new sound library created especially for this version, with over 22,000 samples and more than 3,800 grooves that cover almost any contemporary music genre. All included patterns and grooves can be altered on the fly using the integrated Pattern Editor for even more creative options. Easy to use yet functionally deep and featuring many innovative approaches, Groove Agent 4 has been designed to excel in a number of roles, such as the studio, on stage, in the rehearsal room or as a creative inspiration for music production at home or on the road. Launch the stand-alone version of Groove Agent 4 in Jam mode to assist you during song-writing sessions, for example, when your drummer is not around. Groove Agent also supports all the most common e-drum hardware, allowing you to play the included kits on your setup. Groove Agent 4 has been engineered to harmonize completely with Cubase to keep your workflow smooth and your creativity flowing. Drag and drop samples and MIDI patterns from Cubase onto Groove Agent 4 or drag patterns from the Groove Agent 4 pads into your project to build a Cubase arrangement in seconds. But the integration goes even further: drum maps are automatically created for you from your Groove Agent kits, and all pad names are copied to Cubase, meaning less hassle and more creative freedom.
.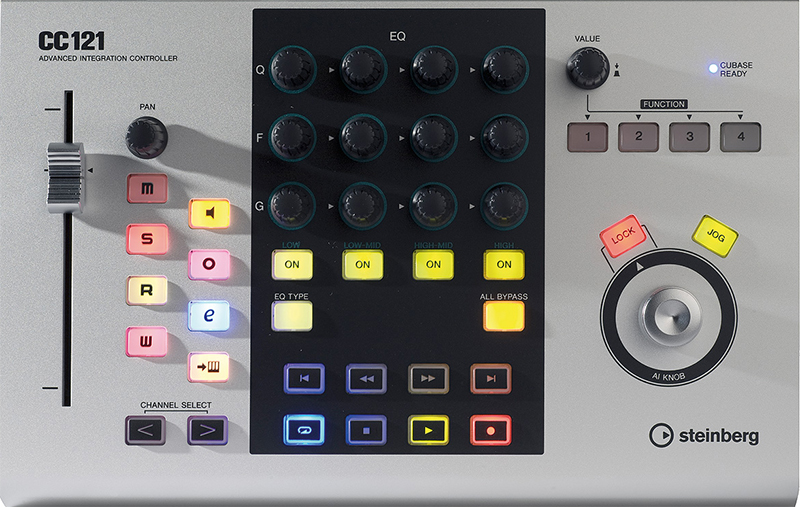 If you have Cubase don't forget there is a dedicated controller specially for Cubase and still works very well. If you are into mouse and keyboard with cubase that is fine. But there is something about having a rotary knob wheel and having suddenlij control over any instrument midi or audio parameter (if the plugin supports mouse hoove over knob in software). For having this next to your keyboard and mouse it does not take up space, and it is very very handy with and alongside Cubase. So think about the controls if you also like to have some fader, pan and have complete control over cubase and fiddle around with the wheel is most fun and helps to get that older analog tough feel back.
Engineered specifically for the thousands of production environments using Cubase worldwide, CC121 interfaces the creativity of musicians and producers with the functional complexity of the world's most popular music production system. Built to an extremely high manufacturing and component standard, CC121 provides totally integrated tactile control of all parameters within Cubase, with a unique design architecture that keeps you 100% focused on your Cubase project.
.
Mackie - Universal Control Pro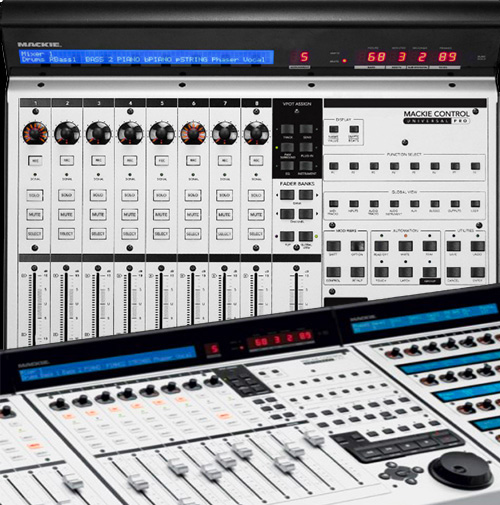 The one to go for DAW Controller for me, it works, it does not die or break and you can be a mixer engineer and adjust your mix in a DAW with a controller like this beast. Well it is only because Mackie make good products and this a winner when it came out and still is the one mixing console that feels good and is really creative for mixing! Yes, in the old days where in the Studio you must have been there gobbling about that many faders and knobs and how do they manage that ? Well at home the Mackie Controller can be big and cumbsy, it still represents a mixing console and controlling EQ or plugins (even the faders and panning directly) is hands on the best. Why not doing with a mouse and keyboard ? Because you can do thins quiker better and more FUN and be more creative! Modern DAW software has given us virtually unlimited possibilities for manipulating audio, but sacrifices the organic feel of faders and knobs at our fingertips. Reclaim that experience without losing the power of software with the expandable MCU Pro control surface. With simple USB plug-and-play setup with nearly any DAW, you will be mixing like a pro with real motorized touch-sensitive faders, buttons and assignable V-pots in no time.
.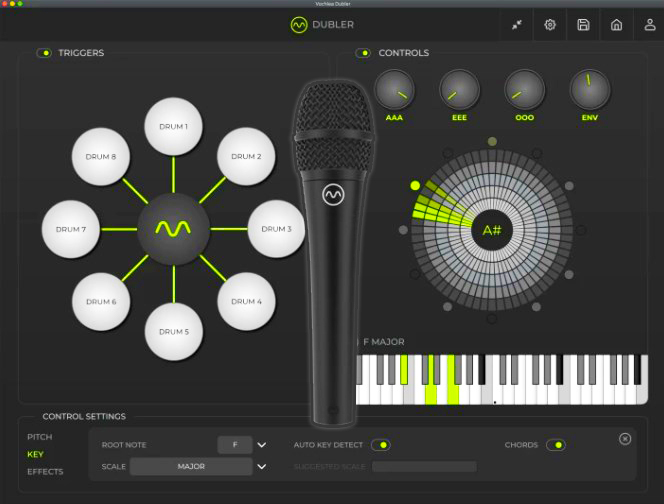 Well if it was not for the latency, there would be more products for sure like this. It does what it says, microphone to midi in realtime. And it is fairly accurate and well made, also the software. It does the job, only when you put your computer at low latency, else the timing is off to make good midi parts straight from your voice. So if you have a new fast computer and you can set latency at low levels and have less then 4ms -> 2 ms or even 1m latency then this is the thing for u. Else if you do not want to switch latency settings, it still provides the idea to your computer by voice. And that is what i also have been looking for, something you recorded earlier, or just out of your mind with your voice. If you have a melody and can sing it a bit properly, you can at least see the notes in midi, or the provided software will tell you every note you sing. And still with the latency it is also nice to have a synth running. So you can at least find out fast, what notes you sing. And record it as midi into your sequencer. Or play it in notes on a keyboard. It is in midi recording of your voice in realtime, so a lot of mistakes can be written in the midi notes your record. Not only that it records also a lot of other midi data. So expect some more or extensive midi edditing then you are used to. You have to give and take with this thing. Depending on how good you are at singing or beatboxing, it solves the problem. A Low Latency computer system will help also. If your not good at this and have a computer that runs loads of effects while you want to use Dubler, then expect major drawbacks. It is not exactly like, bang on, so dont buy it if you dont need it. For me it at least translates my head to voice into midi. And that is good enough. So a good product, but will not work in all circumstances! 
Bridging the gap between mind and music. Trigger drum samples instantly by making any percussive sound beatboxing, clicking, clapping, or even the sound of a home made drum kit. Instead of recording your latest melody in a voice note, you can now hum that idea straight into your DAW with real-time voice-to-MIDI notation. Dubler tracks the pitch, envelope, and timbre of your voice to let you control effects, expression, and pitch bend all while laying down a melody or beat. Dubler Studio Kit is a live voice-to-MIDI controller. Incorporating intelligent desktop software and a custom USB microphone. Play software instruments, manipulate effects and trigger audio samples through the pitch, timbre and percussive sounds of your voice. All in real-time, and straight into your DAW. Make more of the music you love, without having to worry about how to get your ideas into your DAW. Dubler transforms your voice into a real-time MIDI controller, allowing you to write music at the speed of thought. If you can sing it, beatbox it, hum it, or whistle it, now you can play it.
.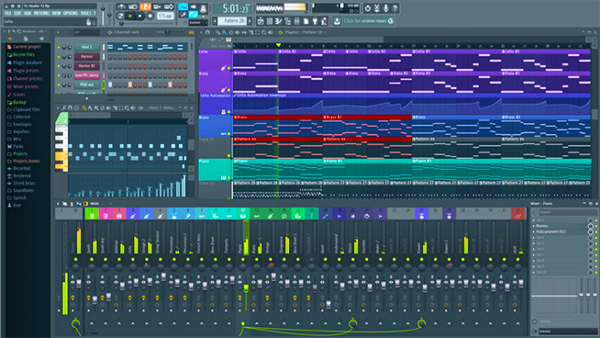 Fruityloops is surely a DAW, because all the updates it have been given, it is now surely as powerfull as any DAW. Though it started out al some kind of pattern tracker on drugs, it now is a complete workstation. Loved by the EDM and Houde scene, though you can surely create any kind of music with it. Though i still see it as a pattern tracker (like Renoise), it is now a complete DAW workstation. Though the PRO version can be very expensive, you will not have to pay for updates, because you have a lifetime free updates after payment of your first copy. That is a very good thing and will stick users to Fruity. Like Steinberg with Cubase or Wavelab, if it allmost every update $99, and i have to say i payed more for Cubase and Wavelab over time then i would with Fruityloops. Also the development is great after 20 years they did everything in software to make every user happy and stay happy. So this is maybe the first one to look at, because fruitloops can do all and even more, it is loved by many and i would get it and be happy with it. Very good DAW and Pattern based software. Get it now.
The fastest way from your brain to your speakers. FL Studio is the result of over 20 years of continuous development, to become the fastest way from your brain to your speakers. Many of the world's top DJs and producers started by downloading the FL Studio trial, making their first beats in a bedroom studio. Now it's your turn, our trial allows you to make and save projects, then export them to audio formats like MP3 and WAV, ready to share with the world. How far will FL Studio take you? Mix and master music to the highest professional standards. All the features you need to create today's most complex productions including: effects chains, audio sends, sidechain control, advanced automation, plugin delay compensation and more. No other DAW matches the flexibility of FL Studio's Playlist. Sequence all elements of the project to make the final song. Tracks can hold notes, audio and automation. Place any data type anywhere and even overlay them. Use the Browser to organize all the data in your project. Free your workflow and your mind! FL Studio's Piano roll has the well deserved reputation as the best Piano roll in the business. The Piano roll is used to send note and automation data to plugin instruments (sequencing). It includes a wide range of tools to aid complex score editing and manipulation. If the huge array of native instruments and effects are not enough for you, FL Studio supports all VST standards 1, 2 and 3. VST gives you access to the widest range of 3rd party plugins currently available. You can even use FL Studio itself as a VST plugin in another VST host. Whatever FL Studio Edition you buy, you'll get all future updates FREE. Nothing more to pay ever again.
.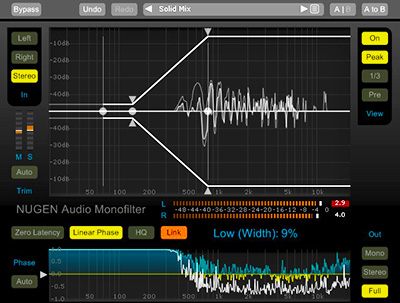 Top notch filtering bass frequencies to mono. Basically i use this plugin on the Master channel on a complete mix. Some say do not do this, you will kill the lower frequencies. That might be true. In the mix you can first start working on what you hear and kill the lowest frequencies out of your mix. Setting mono to 128 Hz and Higher to 512Hz. This will bring all bass over two speakers in exact mono. Bring transparent solidity to your bass. Sharpen, define and align for the tightest mix using Monofilter in every track. And the loudest bass sound will arise. With presets for every situation and controls for fine tuning to perfection, Monofilter anchors your bass with ease. You can at least hear your music now! So great is that you can choose what frequencies are mono and then also set when it will get wider, until like above 128-500hz it is all stereo. A tight Baseline and a Tight Basedrum, where the lowest frequencies are in mono comming out exactly the same on both speakers. And really that is what you want in your mix.
Bringing definition to weak/hollow/flat bass, Re-centering LF after stereo FX, Correcting phase issues, Sampling/restoring old masters, Taking care for vinyl, Psychoacoustic 'Panning' bass, Making a frequency split,Stereo spectrum analysis. Trusted by producers the world over, Monofilter grabs hold of your bass and roots it solidly within your mix. With its intuitive controls you can quickly anchor the power, while retaining the essential character and perceived spatial characteristics of the original sound. Monofilter defines the centre of your bass, so easily lost through stereo effects processing, synth sound generation, unwanted phase inconsistencies and live recording mic. bleed. Market-leading features give you really accurate control over stereo spread, transition and phase alignment, with precise visual feedback in a tactile interface that lets you grab the applied stereo envelope and manipulate it directly – without using abstract parameters and knobs. A solid foundation, when solid or natural sounding bass is a requirement in your recording projects, Monofilter provides the foundation for real power and definition. The non-directional nature of low frequencies can often contribute to a perceived lack of clarity and focus in the mix. Adding stereo FX processing and using multiple mic. set-ups in the studio can introduce phase inconsistencies leading to 'weak', 'hollow' or 'flat' sounds. Monofilter lets you align and balance low frequencies with the minimum of effort, leaving you with the same sound, yet louder, more focussed and better defined. And with Monofilter you can be sure of great playback performance on systems with separate low-frequency handling, such as club PAs, live rigs, home cinema systems, HiFi, and 2.1 gaming systems.
.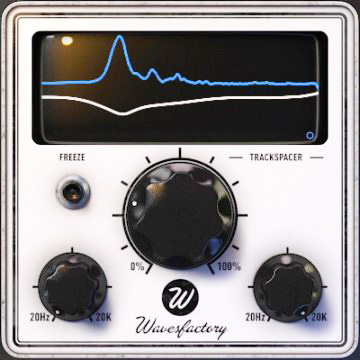 Just as Monofilter, this is a must have plugin!!! If you have not used this plugin before, if you did not side chain a compressor before, you be asking why your mixes sound so bad and you cant separete the mix more ? TrackSpacer is the answer! Ducking the Basedrum in front of the bass or putting the Vocals upfront. A compressor does not the same as TrackSpacer does, TrackSpacer removes a amount of EQ that is used by the source input. If you want to have a clear Basedrum, is just a first start. You can duck anything with anything. In version 2.5 seems easyer to work with Cubase. Anyway, If you want a good Basedrum just duck all other tracks or even a mix track bus. So you clear all other sound while the Basedrum is playing! And it is a good idea to have a Short Basedrum as can bee (so set envelope as short as can be or cut the sample, as it will duck all other signals by it. Just place TrackSpacer on any track you have but the basedrum, and give the basedrum as input, set reduction at 23 % or higher. Many applications arise with this plugins that can cancel out the EQ or cutout the EQ of other tracks so that your main materials, like Bassdrum, Vocals or anything will stick out and be earable by ducking the others with TrackSpacer. Also some kind of rythmic ducking at the same time is happening when used on other things like while vocals sound, you can duck the guiters and that piano. By reducing the EQ of the sound by the basedrum sound (for instance) it does not matter if you change volume on the tracks. With ducking in compression the threshold is important and any vome changes on the track reduces or even cancels you ducking by the compressor. That is why TrackSpacer is not only better by reducing EQ on that tracks, also when you adjust the track volume, pan or effects, it does not matter, and there is no need to adjust TrackSpacer as you would with a crompessor. Fiddling with a compressor ducking all the time is useless time, TrackSpacer is better and takes no time from you, setup and go! Then second the plugin is easy to setup and just to put on a Channel and improve your mix in just about 30 seconds. Then afther that it is only some occasional adjusting. This simple EQ ducking solutions works great for anyone mixing and having problems, because now with TrackSpacer it just became too easy! Whatever you want to come out of your mix you decide priority in your mix. Vocals upfront you can easely reach. Drums like basedrum combined with bass, what kills or what gets killed, what gets sound what is getting not. You can dump Trackspacer multiple times on your mix busses and prioritise what must stand mixwise upfront and clear. Very hard to do otherwise, and took so much time, TrackSpacer is the plugin to have, timesaver and mix ease!
The Trackspacer plug-in features a 32 band EQ that reacts to the incoming sidechain signal. It analyses the spectrum of the sidechain and applies a reversed EQ curve to another track. As if by magic, Trackspacer creates space for the primary track by cutting the exact frequencies on other tracks. No more fighting for space for the vocal in a mix, or any other instrument for that matter. If you have a solo that needs to room to breathe then Trackspacer makes the task easy – complicated automation moves on your mix are a thing of the past!
Trackspacer is an award-nominated plug-in that creates space in a mix by carving the frequencies that the main track needs into another track in real time. Trackspacer is no ordinary plug-in, it is similar to a sidechain compressor plug-in but much more powerful and transparent. It's considered a secret mixing weapon by many artists, producers, and engineers. TapeOp said "I would call this a secret-weapon plug-in, but the word is hereby out! TrackSpacer is a ridiculously affordable, easy way to get various elements of your mix to interact in useful and musical ways.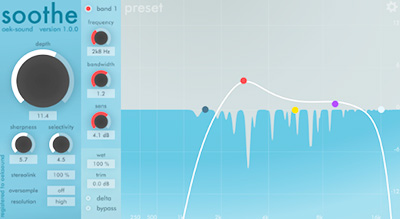 Second after Trackspacer, Soothe 2 is also one not to miss. When you can't handle your mix or a sound EQ wise, fixing harsh elements, Soothy is the solution. A Solution that handles EQ like multiband compression. Works mix wonders because all the nasty harsh frequencies can be now polished or taken out. And this without a lot of work, but fast, this is a timesaver and works wonders. Your mix will sound better, instruments will not sound harsh, it is ment for Vocals and does the job very well on all kinds of instruments, specially on the ranges mids highs where problems do occur. Also it can work on the bottom end. Take out harsh sound on everything, without fiddling around. Soothe is a new kind of dynamic EQ processor and works great on like samples and offline processing, mix tracks and stereo audio. Vocals, Cymbals, Harsh Sounds on the overall. So used on sounds or audio that can have a treatment of taking out unwanted frequencies that pop out and though the whole mix or vocals, even usefull in audio mastering. It is very usefull to get the harsh sound out of samples and audio, and if you do not like EQ to be so fiddling, use soothy for the job of removing those tiny spikes of EQ. It is way faster to use Soothy and start with a moderate mix level inside soothy find the frequency range and remove as much as you need. We call this the ringnoises that pop out of the frequency range and are mostly unwanted sounds for human hearing. Remove with Soothy and make something recorded harsh, suddenly smooth. Still one of a kind plugin or at least very very usefull to get the harshness and EQ artifacts out of your sound. Not a sound changer, but a sound scraper and cleaner. It is alike Trackspaces basically a must have tool for mixing and getting a better cleaner (no so harsh) sound.
Soothe is a dynamic resonance suppressor for mid and high frequencies. Originally designed as vocal processor, the plugin aims to give you "the perfect, in control, world class vocal sound you've been striving for, with unmatched ease". Soothe is a dynamic equaliser with self-adjusting frequency bands. Unlike traditional EQ-tools, soothe analyses the signal on the fly and adjusts the frequency-wise reduction based on the input. This saves you from having to manually notch the problematic mid and high frequencies. The reduction kicks in when needed and where needed, without affecting the nearby frequency areas. This results in more detail, top end, and presence.
Fixing Mix Probelems : A vocalist with problematic sibilance recorded with a saturating microphone. Fingerboard noises on acoustic guitar and double bass tracks. Excessive whistling from the cymbal close mics. Overly bright electric guitar and piano tracks. The graphical user interface allows you to target just the areas you want, with control over the frequency range and sensitivity of the process. The frequency graph shows exactly which frequencies are being processed. Tweak the material for round results that sit well in the mix, or go overboard and find new innovative sounds. The delta toggle presents you with the difference signal, letting you hear and see just what is being removed. This allows you to fine-tune the parameters with confidence. Designing a spectral process with minimum amount of artefacts. Soothe is free from pre-ring, crossovers, and summing artefacts commonly found in dynamic eqs and multi-band compressors. The process sounds as natural as you like, with the option to add even more resolution and oversampling. If your CPU can handle it.
.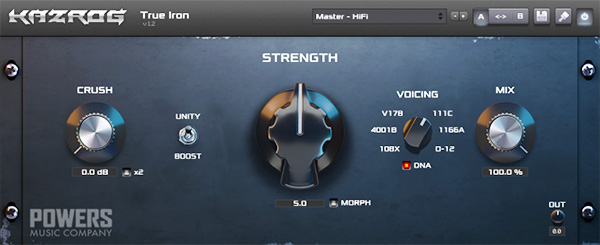 Most users will think of warmth by adding tube warmth to their tracks. That is one way to add discrete harmonics. Other will revert to tape simulation plugins for that tape effect and hitting the volumes that tape likes. But there are mostly Transformers that raised the bar for Synths, Microphones, Vintage Compressors and all kinds of high end audio equipment. Kazrog True Iron add what we call indiscrete harmonics. And when raised, it will give a subtle warmth and when driven in dB gives harder and more open sound. This emulation by Kazrog will open your eyes on what it does by using inside your mix on the master or any track, samples, etc. For breaking out the vocals, synths or even the whole mix. Useful and very kind on CPU usage. This is about the only good emulation of discrete transformers and with very subtle or very hard settings, you can add, what you could not do before. Somehow Karzog software is very well done, it gives the analog sound or just that sound you looking for, but it really is not a sound changer. Warmth? Tape? It is discrete harmonics, but it will improve as soon as you use it into your mix. Best for Groups Busses or on the Master.
The sound of transformers. Add warmth and heft to your tracks and masters, made by Shane McFee in conjunction with Devin Powers. It accurately emulates 6 classic line transformers, known for their use in many of the biggest names in vintage analog outboard sound processing. Models are based on UTC 108 X, Malotki E4M 4001B, Western Electric 111C, Haufe V178, Marinair LO1166A and the UTC O-12. Take a look behind the scenes at some of the transformers that inspired the plugin. These transformers add weight, heft, and girth to your mixes and masters. The plugin features adjustable strength, input impedance, wet/dry ratio, and a special Crush control to add fat transformer saturation to tracks and buses. The CPU usage of the plugin is low enough that you can add it to every track or bus in a mix for added virtual analog warmth across your entire mix. True Iron was developed to capture the true essence of the subtle warmth of outboard line input transformers. A secret weapon of pro audio engineers in a wide range of styles and applications. True Iron emulates a single component circuit, purpose built with fidelity in mind, while still imparting analog character.
.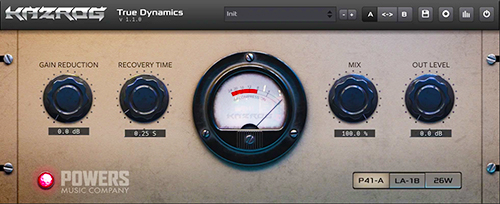 Based on the Karzog True Iron Plugin, Karzog True Dynamics is a compressor with a nice sound to it. I was using Fabfilter Pro-C for a while, but like some compressors it was not the sound i was after. True Dynamics has some magnetic feel into it and on drums (or more) it has a good smooth effect and the compression can be setup to have that good sound. What more can i say, the P41-A emulation is what i use most! I can agree you can use any comrpessor and the are so much of them. And not to say that anybody has opinions about comrpessors! For the classic magnetic smooth feel, this is the one for me. Though mostly maybe takes some more of your processor, it is not an processor eater. Recommended!
True Dynamics emulates the Presto 41A, ITA LA1B, and now (in version 1.1+) the Collins 26W - three of the most sought after and hard-to-find vintage tube compressors in all of pro audio. These are the rare secret weapons of some of the world's top mixing and recording engineers, and now they can be in your DAW for a tiny fraction of the cost of owning the real units. The emulation technology behind True Dynamics incorporates the same industry leading analog-modeled DSP behind Kazrog's renowned True Iron plugin. Highly accurate emulations of the Presto 41A, ITA LA1B, and Collins 26W compressors, inside a single plugin. Toggle between compressor models with a single click. Unified Gain Reduction, Recovery Time, Mix percent, and Out Level controls. VU meter. Standard Kazrog preset manager with A/B compare. Compensated internal bypass. Advanced panels with power user options such as oversampling control, sidechain LPF/HPF, and Zero Latency mode for realtime tracking.
.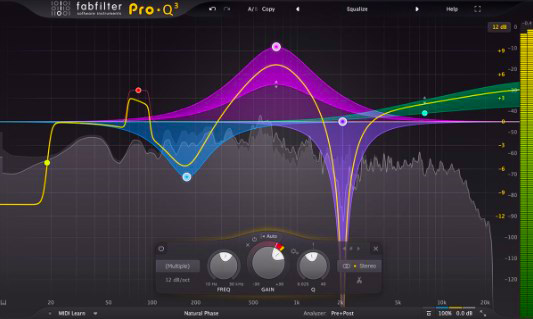 The Big Brother is all EQ for a mix or master. Not only because it has -96dB Cutoff Filters, it is just the EQ where we have it all under one plugin and with quality sound. If you ever had limitations on your EQ, this Fabfilter did good! Also it is not even processor draining at all, you can set it up on every track and still have room in processorspeed! The one and only tool look at, when you need a good EQ, look no further.
Unrivalled sound and workflow. An equalizer is probably the tool you use most while mixing and mastering, so you need the best of the best.
With FabFilter Pro-Q 3, you get the highest possible sound quality, a very extensive feature set, and a gorgeous, innovative interface with unrivalled ease of use.

The God Particle, that is quite a name for a plugin. But for the most it fits and also it does very well on the mixbus or masterbus. I like these kind of plugins, if they work good. And this one gets you into the ballpark. I have used it on the masterbus and most say specially with all those Green Leds inside the plugin user interface, you can easely get something that does well for a more professional sound. Also you cannot make a trud shine. But most cases this plugin works very well on the mixbus end, or the master end. What i like is the sound and the balance it can bring to your Lows, Mids and Highs. If you follow the manual and the rules thet Green Leds must be hit, you can easely get a better mix. Hope the comes more of these plugins. The way that Bass, Mids en Highs are seen and controlled, gives a good idea to have your frequency spectrum correct for most music. This is where it shines. But some say it is just a Loudness Booster with some tricks. But i dont agree to that at all. Like Soothy 2, this is kind of must have, if you think you need it. It works well on must tracks! Good One!
The God Particle - Beyond the super analog. Fifteen-time Grammy® winner, Jaycen Joshua is one of the most sought-after mix engineers in the industry. From Beyoncé and BTS to Rosalía and Jay-Z, Jaycens credits span multiple genres, cementing his name as a true craftsman of sound. Jaycen's unrivaled passion for music and engineering has consistently pushed the bounds of music production. His attention to detail and intuitive approach to mixing inspired The God Particle the only plugin you will find on Jaycen's mix bus. When you're selfless while creating, and all you're thinking about is the art, your mind becomes more open to newer and fresher ideas. Jaycen and our team at Cradle spent three years refining every detail of The God Particle from harmonic algorithms to UI functionality, no stone was left unturned in our pursuit. With the mission to completely replace every aspect of Jaycen's analog workflow, hundreds of hours were spent in the research and development phase of creating The God Particle. Together, we not only emulated these processes, but improved on them too. Don't let The God Particle's hypnotic visuals deceive you, there is an intricate universe at work beneath the surface. By removing a range of technical chores, The God Particle enables musicians, producers, and mix-engineers to focus on their creative process without speed limits. The God Particle has a multitude of processing algorithms under the hood giving depth, detail, and clarity to your next mix. Coupled with the adaptive limiter section, you can be certain your dynamics and transients will be preserved, all while achieving competitive commercial loudness. Precise gain staging is a vital ingredient of well-engineered and well-mixed records. Using Jaycen's input and gain reduction targets you can rest assured your mix will be both dynamic and loud with a well-balanced EQ response. By default, The God Particle's settings are exactly how Jaycen has them set on every single one of his mixes since 2021. Stay fully focused on your creative process, while Jaycen's world-class engineering keeps your master channel locked in..
.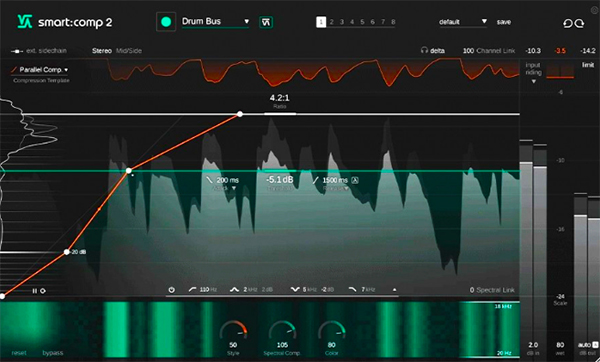 The Smart Compressor is Here! Sonible have made AI powered Compressor. What i do like about this compressor is that it is very transparent. So unlike some other compressors, it does not add sound or spectrumwise be chosen for coloring or soundwise different. This compressor is like it should be, just compressing and do this without adding or losing detail. Furthermore this compressor functions like a normal compressor and a spectral compressor. The display gives a good idea of what you are doing to the signal. And setup is quite good controlled in the display as well. The AI suggestions for compression are a good starting point, and is a welcome function. This thing has it all, and for sure is about the cleanest compressor ever heart. A must buy, if you need it on busses and tracks or on the master. It will preform good without chaning your sound color. Ofcourse the sound color can be changed, only if you need it or want it. The options and control is ver very good!
Smartcomp 2 automatically delivers transparent, precise results; providing you with the creative tools that will transform your sound from nice to extraordinary. AI-powered automatic parametrization, spectral compression, and sidechain ducking abilities aim for one goal: clean, well-balanced compression results that remain true to your input signal – no matter whether you are working on single instruments, instrument busses or entire mixes. By analyzing the characteristics of your material, its intelligent processing will enhance transparency and preserve crucial details without compromising the integrity of the signal. Supported by such a sound base you can go ahead and let your creativity flow. This exceptionally versatile compressor is packed with features that enable you to give any track your unique vibe. Gradually shape the character of the compressor with the style dial and give your results a darker or brighter vibe using the color dial. The free-form transfer function with its templates allows you to achieve sophisticated level mapping. Straightforward and intuitive. All crucial compression parameters take center stage – their handling will feel as familiar as working with a common single band compressor. With input level riding you can focus directly on shaping the dynamics of your track instead of worrying about level issues. smart:comp 2 provides you with real-time monitoring elements such as instant impact prediction which immediately reflects every parameter change across the entire signal, compression mapping and a RMS level histogram that outlines the overall dynamics of a track. Invaluable assistant, whether you're a mastering or mixing professional or an aspiring talent.
.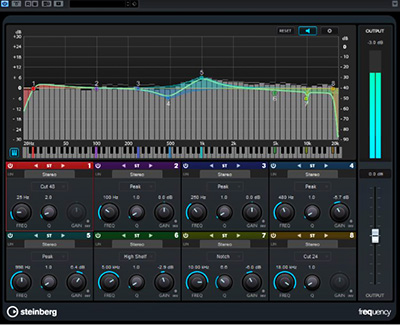 The option to have a -94dB cutoff filters on Low and High is very useable to just add that sound and reject lows or higs out of the mix, making it less blurry and cluttering. The LowCut of -94dB is great for Bassdrum or Base cuts at around 25hz, or any other Instrument or Vocals etc to take away the bottom End of a sound, like setting the cutoff Low above 120hz to 512hz depending on the needs of the sound. Basically scan with the LowCutout filter of -94dB all what is blurring the mix and that is why the -94dB cutfilter of this plugin is so important. Same with the Hoghfilter but used lesser, you can take out Highs from Bass and Bassdrum and keep what you need on the rest of the sounds. Also the Analyzer is Ok in very, with under the Keyboard to find out notes. The only thing this EQ can do is manage the sound of the channel. But really Frequency is the 1st EQ i use for a track. Even i setup any audio channel or instrument channel with a Frequency Plugin just to do all the Channel EQ. So the only thing i use first in the Channel.
Frequency is a high-quality equalizer with 8 fully parametric bands. The bands can act as either shelving filter, as peak or notch filter (band-pass), or as cut filter (low-pass/high-pass). You can choose between the EQ types Low Shelf, Peak, High Shelf, and Notch. For band 1 and 8, you can also select the types Cut 6, Cut 12, Cut 24, Cut 48, and Cut 96. Low Shelf boosts or attenuates frequencies below the cutoff frequency by the specified amount. Peak boosts or attenuates frequencies at the set frequency value with a bell shaped filter. High Shelf boosts or attenuates frequencies above the cutoff frequency by the specified amount. Notch boosts or attenuates frequencies at the set frequency value with a very narrow filter. Cut attenuates frequencies below (band 1) or above (band 8) the set frequency. You can choose between different slopes: 6 dB, 12 dB, 24 dB, 48 dB, or 96 dB per octave.
.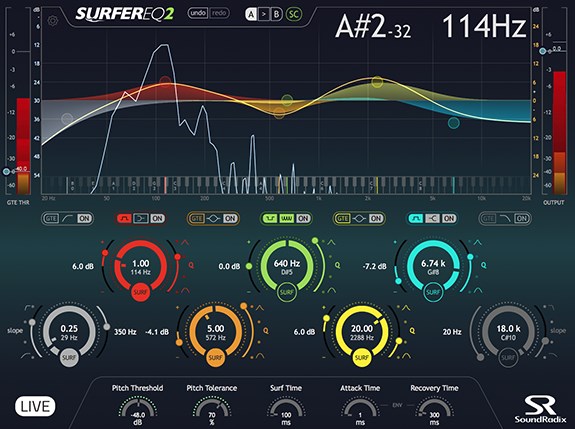 Surfer EQ is great for all monophonic or mono channels, as long as the pitch of the sound can be tracked with this good EQ for adding some umph and timbre (harmonics) and adjust EQ to about mono notes to follow. Basically if you track EQ the lowest note of a Bassline, the Surfing function follows that lowest note as the track plays. The notes in mono that follow are all EQ'd the same. So it is a tracking EQ for mono material. What it does is what was needed and other EQ's (until now) could not do. That is having a second EQ option that works on just the tonal settings of mono sound. So it is great for Basslines and Vocals, also on mono synth material. Just monophonic sounds, but hey to mess with harmonics of the sound on every note that SurferEQ2 follows, you can make a Baseline steady on all notes played. So it is EQ follows notes and does Compression or even Gates the signals. So many options. But to enhance or change you sound to what you whant, instead of messing with the sound source, just setup SurferEQ2 on all mono material and you will find out, you can adjust the sound in another EQ style way.
Timbre Shaper, SurferEQ 2 is a ground-breaking pitch-tracking equalizer plug-in that tracks a monophonic instrument or vocal and moves the selected bands with the music. Synthesizer filters can track the pitch to maintain the timbre of the sound throughout the instrument's voices. However, sound equalizers have always been static. While being effective for broad tone-shaping and room resonance correction, standard EQs do a poor job at maintaining the vocal or instrument's timbre as the music changes. Tracks the pitch of a monophonic instrument or a vocal source and can adapt its bands' frequencies relative to the music in real-time, maintaining the natural harmonic balance of the sound source and making it possible to shape the source's timbre relative to the notes being played.
.
Steinberg Pitchcorrect - AutoTuneSteinberg Pitchcorrect - AutoTune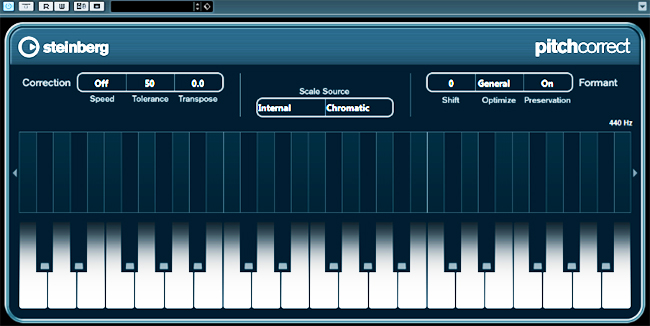 On-the-fly Pitch Correction, designed for vocal and solo instrument recordings, the new PitchCorrect VST3 plug-in brings easy and automatic intonation control and scale correction of vocal and monophonic instrument recordings to Cubase Essential.
PitchCorrect is based on the acclaimed Yamaha Pitch Fix technology and constantly detects the pitch of the input material and immediately corrects it to match to the closest pitch of a user-specified scale, including minor, major, chromatic and custom scales. Various parameters, like the Retune and Tolerance control, help adapting the retune rate to almost any performance style for very natural-sounding pitch correction.
.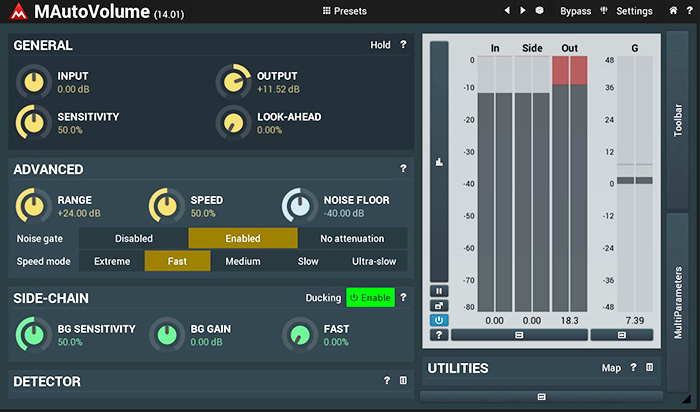 So another great tool to get you mix tracks to stand out, or even better a mix track plugin that is better then all compressors and plugins you find for getting your Drums, Bass, Guitar, Piano, Keys, Melody, Vocals, etc, sound good in front or up in your face. It depends on the settings you take on it, the controls can be quite hard to understand. But what it does, it keep it all under control, like a compressor does, but with in fact a lot more. Once understand, you will need this one if you are just not getting your mix in control. It is with Fabfilter Pro Q the next plugin i place in line on each track in a mix. Just to adjust it to fit in the mix, every track in the mix can have one! Way better your mix sound!
Vocals, bass, solo guitars, saxophones. They all deserve to be on top of the mix all the time. To accomplish this, some engineers used compressors, others automated faders. Both needing a lot of time or effort. Now you have MAutoVolume, which does the job for you with almost no effort and with unbelievable audio quality.
Meldaproduction - MSpectralDynamics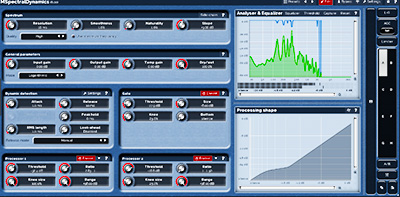 Essentially a dynamics processor which works in the spectral domain allowing you to work with individual frequencies. The compressor can make loud frequencies quieter for example - but that's just a beginning. With MSpectralDynamics you can expect nothing less than pristine audio quality!
Standard tasks, such as flattening the spectrum or removing noise, are available from the main screen with simple controls. Quick and easy, unless you want to dive deeper and make use of all the controls. The plugin can do anything with each frequency. It can be a compressor, expander, gate, or any combination, and you can even draw your own processing shape for more creative effects. Add in integrated parallel compression, full channel linking, up to 8 channel surround processing and much more and you might just become a hopeless addict. The unbelievable level follower that you may know from MDynamics is here too! Automatic release modes, peak hold, RMS length, look-ahead, custom attack and release shapes and much more. Preventing collisions between tracks is just one example of what you can do by analyzing a different track from the one that you are actually processing. Unleash your creativity!
.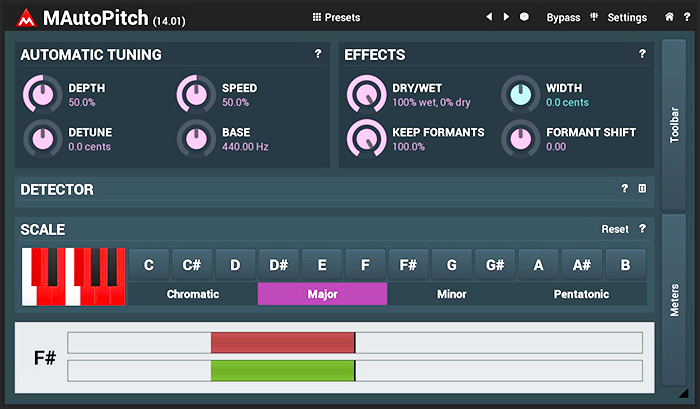 MAutoPitch is a simple but great sounding automatic pitch correction plugin designed for vocals and other monophonic instruments.
Besides making the audio more in-tune, MAutoPitch also provides creative features such as formant shift and stereo-expansion.
It is quick, easy to use and free!
.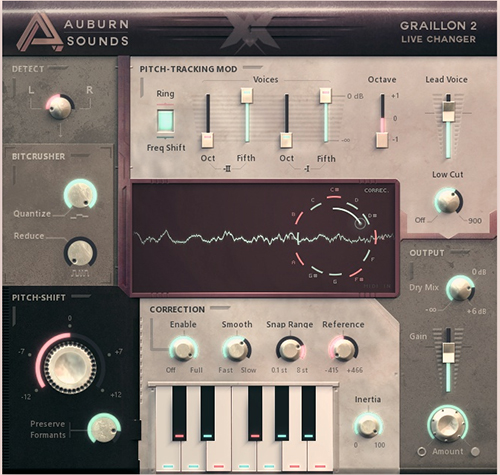 Graillon - AutoTuneGraillon - AutoTune
Graillon is a Vocal Live Changer that brings a world of possibilities right into your DAW, with carefully designed features.
The Pitch-Tracking Modulation, unique to Graillon, changes the type of speakers, generates throat sounds, creates choruses, make octaver sounds, enriches a voice to make it more masculine.
The Pitch Shifter cleanly transpose a voice up and down, and has been optimized for voice.
The Pitch Correction module brings an immediate robotic sound, while the Bitcrusher addition softly add sparkles to the mix.
.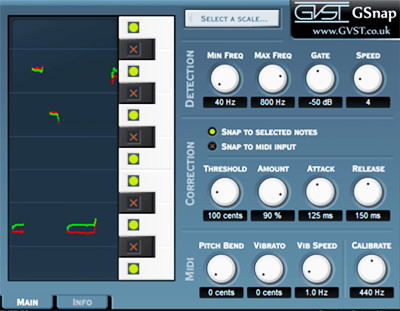 GVST Gsnap - AutotuneGVST Gsnap - Autotune
Free VST pitch-correction. Use with subtle settings to nudge off-key vocals back in line. Extreme settings can create sounds like the famous T-Pain or Cher effect.
MIDI control mode allows you to fit a recording to a new melody.
.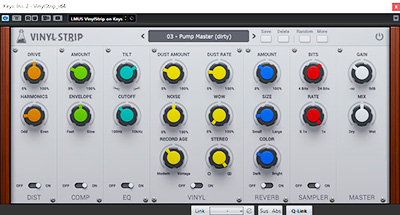 For enhancing the sound right afther you placed some EQ, followed with Vinylstrip there is quite a few Channel Strips around on the market. But Vinylstrip has some mind of its own and just sounds good. The distortion, Comperros and Tilt EQ are good to get some sound breaking forwards. Reverb, the Bit mixer even Gain and Mix, make it very handy to have as a second improvement tool on samples or channel tracks. It is gettting you sound more outward and in front and crispy as you like, not to over due it. Also the Vinyl part as adding dirt and clicks is very wierd to destroy your sound with it, but it works to have some grain dirt added to an otherwise clean sound.
Vinyl Strip is a cracking plugin, ideal for treating individual channels and processing whole loops/groups. It does exactly what it sets out to, with the added bonus of offering five versatile mixing tools, so even if you're not looking to bring the sound of classic wax to your productions, it's highly recommended. A multi-effect plugin featuring 6 modules: Distortion, Compressor, Bit Crusher, Tilt EQ, Vintage Reverb, and Vinylizer. The modules can be arranged in any combination by simple drag-n-drop. Vinyl Strip will add life and an old school touch to your samples and tracks, and achieve that classic vinyl record sound in your digital environment. The plugin is optimized to be lightweight on the CPU.
.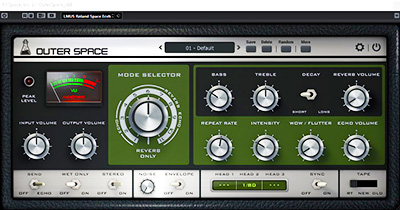 Just because the original Roland Space Echo is used on may Reggae and Dub records, it is just about the ultimate vintage reverb around to get something started. Unlike other Reverbs this has Delay and more and consist of a sliding tape accross tape heads, very adjustable and syncs good. And to get that other wierd stuff just fiddle around with the knobs or use the random button.
Outer Space is a faithful emulation plugin of a famous vintage tape echo made in the early seventies. As the original unit, Outer Space features a tape echo section with three playback heads and a spring reverb tank. We have modelled three different tape frequency responses and saturations, along with all the analog imperfections of tape recording/playback. We've also modelled the ballistic response of the delay rate (repeat rate) which can create eerie pitch shifts (due to the Doppler effect), one of the classic tape echo-based sound effects.
.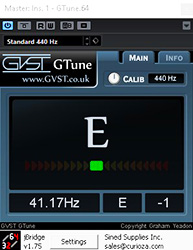 For adjusting there is one forgotten thing, that is tuning. You music needs to be in Tune. Guitarists tune their instrument before playing. And with VSTi Instruments around, you might think you sound is tuned allready ? Wrong. In some cases yes, some NO. You should check and correct false tuning. That is why i use Sampling with Halion. And it works so well if all is tuned and you mixes improves greatly if all is tuned correctly.
GTune is a chromatic instrument tuner which operates much like similar hardware units. It will automatically detect the pitch of a note being played, and display the closest corresponding Western scale note. You then change the pitch of your instrument, using the "LED"-like indicators and the numerical read-out in order to bring your instrument quickly and accurately into tune.
.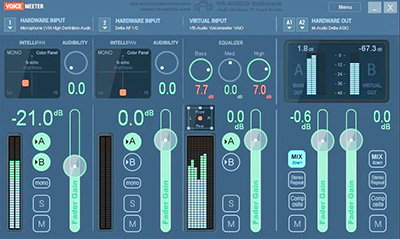 Are you recording Youtube Video's or do you have a blog on the net ? Do you have a problem that the microphone is not working (not recording or no audio ?) or have problems when you start another audio application on Windows while recording the ScreenVideo ? Ever had problems wanting te record your voice with Video or running a DAW at the same time ? Yes, i managed once to get a voiceover microphone working while recording a video and then running audio software that blocks the soundcard. Even with a microphone working, there can be lagg and latency even stutter comming from the computer or soundcars. This plugin vor Windows soundsystem (so usefull for everyone) and has the routing you need, like routing a microphone from a soundcard to the systems record channel or output, so you can here it while explaining (recording a video) and have a program like Cubase use the same soundcard. Voicemeeter is Audio Mixer Application endowed with Virtual Audio Device used as Virtual I/O to mix and manage any audio sources from or to any audio devices or applications. So it works and does the job well.
.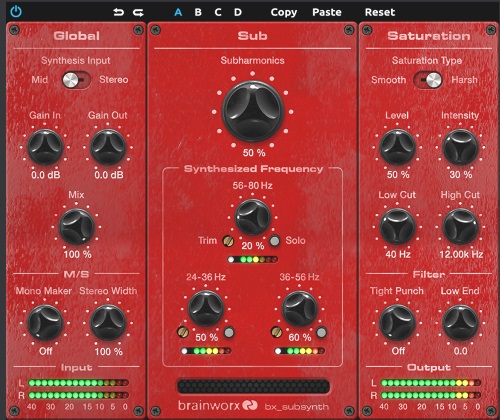 The savior is here! When need of sub material like on Basedrum, Base or other instrumets Voices, the BX_Subsynth from Brainworx is like the holy grail. It creates from the incomming signal a 2nd and 3rd lower sub synthesis frequencies and a upper part. Basically when you dont have a Base that has the power, you can add it now and make you music much stronger (it has the options to overdue it). And there is also the Monomaker, that makes frequencies Mono below a cerain setup frequency. Pricy but essential for most amateurs that don't know how to fix or create LOW frequencies and a must have for anyone mixing or mastering music. It can add sub warmth even where there seemed to be none, in a mix or even on a master.
bx_subsynth is the Holy Grail for bass fanatics. Integrating a mix of classic and modern processing, this 10-ton beast gives music tracks, cinematic special FX and DJs' sound systems a bottom end that goes all the way to the Earth's core! Bass EQ can't do what bx_subsynth does. The discrete frequencies bx_subsynth generates leave more space across the bass-frequency band for other instruments, letting you jack up subsynth's bass without muddying your mix. Plus, EQs can't boost bass in a thin track that doesn't have any bottom to begin with. bx_subsynth doesn't just boost—it adds new bottom! And whereas psychoacoustic bass processors trick your brain into hearing phantom subharmonics that don't actually exist—and which you can't feel—bx_subsynth adds real sub-bass that will shake your body like an earthquake!
.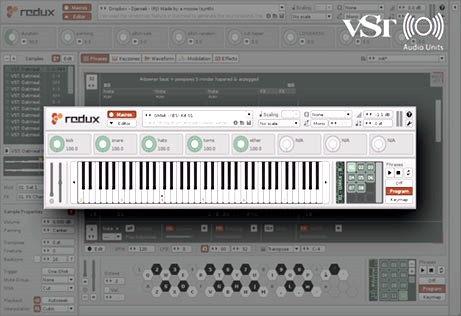 Redux is a great sampler that you can use with Renoise of any DAW or VST host. The twist and good things are, manipulation and easy sounds. Just like Renoise you are up and running fast and will love this otherwise cheap sampler. If you have Renoise get Redux with it. If you need an affordable sampler that works well, get Redux. But when you want support / updates and a good forum, look somewhere else and then dont get it.
Redux is a sample-based instrument, combined with a powerful phrase sequencer. Enjoy the full-featured MIDI implementation and performance-friendly features, for the first time available outside of Renoise. The sequencer in Redux is closely integrated with the instrument, and used to create musical phrases. These phrases are controlled via notes and program-change events, and allow you to alter the playback in a variety of ways.
.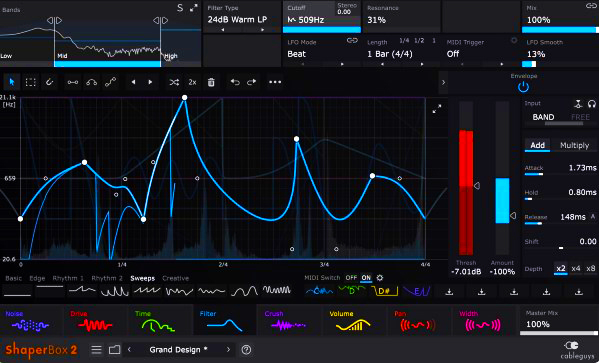 Oh wow, just what i needed ? Yes, from the first start of this plugin on the master bus, it was amazing! And it still is good very good. Manipulation of your everything. What comes out of the box is completely your own works and choise. But allmost all times it creates things from you tracks music, samples, etc. New things, what you never think of to do. Most plugins are effects, this is the toolbox for manipulation! Dont mis this plugin, it should be in your kit allready. Nothing bad to say about it. Great work from Cableguys. 
With eight powerful effects – TimeShaper 2, DriveShaper, NoiseShaper, CrushShaper, FilterShaper Core 2, VolumeShaper 6, PanShaper 3 and WidthShaper 2 – ShaperBox 2 creates amazing musical, rhythmic effects and helps solve complex mix problems. Load any Shaper effect and simply draw the modulation shapes you need with our easily editable LFOs. Or use envelope followers that react to audio. Control drive, noise level, bitcrushing, volume, filtering, panning, width – even the flow of time. Get inspired: transform loops, beats, vocals, melodies or basslines into addictive hooks to kickstart your next track. Then perfect your mix with sample-accurate sidechaining, punchy compression, multiband distortion, stereo expansion and more..
.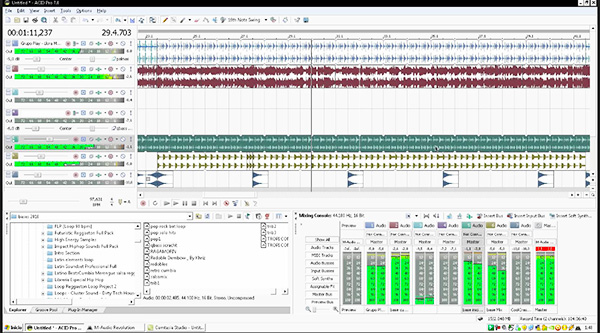 A special mention is Acid Pro. For magling audio and set tempo adjustments for audio files (creating loops) and to have all audio files aligned to one tempo, this is great good software.
All the classic ACID Pro features including real-time pitch/tempo transposition during playback and preview, unlimited tracks, and our signature pick/paint/play interface. ACID Pro 7 software also includes 90 virtual instruments so you can start creating music right out of the box. ACIDized loops are more than just audio files. They contain information on length, transients and even key of the samples. ACID analyses the file and uses the information to manipulate the sound and pitch with ease. DAW powerhouse that combines full multitrack recording and mixing, MIDI sequencing, and looping functionality for a seamless studio production environment. More creative partner than production tool, ACID Pro 7 software inspires like nothing else. With its Transparent Technology design, ACID Pro 7 software removes typical barriers to the creative workflow so you can effortlessly transform ideas into real results. Experience unparalleled MIDI sequencing in ACID Pro 7 software, with real time MIDI processing and precise control over MIDI events. Use track envelopes to automate and modify modulation, expression, or other types of MIDI controller data.
.
Native Instruments - Traktor Pro DJ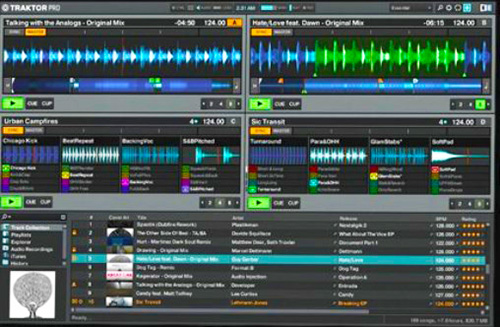 Just because i am not a DJ but creating music with a DAW, i was allways interested in DJ software and many of us like to be a DJ. For wannabees and home recorders (and offcourse the real DJ), the Traktor software is making a DJ of you and anyone! So many DJ software out there. Traktor is just great Dj software that can also be controlled by a DJ controller or Midi Controllers. The main part for me is when i create music in a DAW, i can also export audio mixdowns and control that with Traktor and a DJ controller. And that is so much fun! And i record audio samples (recodring your DJ set in Traktor). Cut samples from them and then re-use them inside my ongoing track in a DAW like Cubase. So for anyone, i can say fiddling around with DJ software is great for fun and gets you samples that are usefull.
Customizable 4-deck interface and streamlined workflow were designed with the professional DJ in mind.
Create on-the-fly remixes with powerful cueing and looping. Add drama and tension with the industry's largest FX suite. Maximize your mix with the fully customizable, versatile interface. Mix tracks, loops, Remix Sets, Stems, and live input to layer sounds and create unique DJ sets on up to four decks. Automatic beat matching keeps all four decks in perfect sync, giving you more time to get creative with your mix. Jump to key points in a track, like builds and drops, to create unique edits, or simply start it from a favorite point. Set loops, change loop length, and set hot cues on-the-fly for each loop, to instantly remix a track. Creatively mash up a track with stutters, chops, and rolls without losing your relative position on the track. Create dramatic buildups and drops with over 40 tempo-synced FX across four units, including Beatmasher, bit crushers, filters, and more. Sample your favorite audio loops directly from playback to create unique remixes and re-edits instantly with Remix Sets. Stems is a new audio file format that splits tracks into channels based on four musical elements: bass, drums, vocals, and melody, for example. This makes it easy to mix in innovative ways or create spontaneous edits, acapellas, instrumentals, and more, with each track element available independently. In Traktor Pro 2, each stem is visible as its own waveform, thanks to the Stem View.
.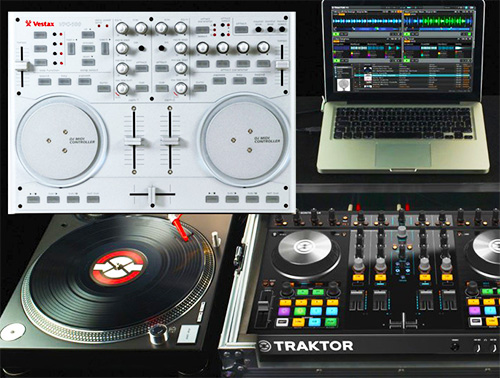 A good mention is having a DJ controller for DJ software. The Vestax VCL100 i have for many years now is so robust and with the touch wheels very creative controls for any DAW or DJ software. Not to mention Native Instruments own controllers and the sound mangler Machine Software with a controller. All good fun and creative in the same time, DJ your own tracks or parts like Bass, Drums or any audio, you can manipulate in realtime and creat funny effects that you never come accross. A real DJ set or Software Controlled DJ ? Wel software like Traktor is not expensive like having a Pioneer set in hardware. And a DJ Controller or Midi Controller should be not that hard to find and pay for. So home users can now be real DJ's. And with a Laptop running the software you can even do real DJ sets and get payed for. Eh ?
.
Native Instruments - Traktor S4 MK2 Controller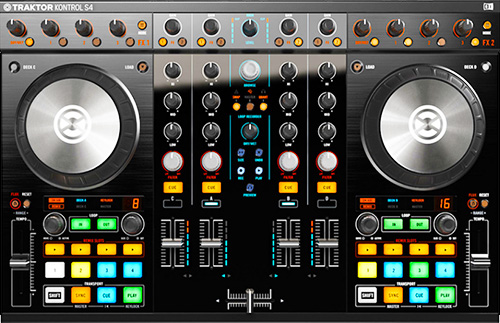 I allways loved the Traktor software.
And being a DJ was allways nice but nowdays everything changed that anybody with some cash can buy a laptop and a DJ controller and actually bee a Deejay. Not only great fun but remixwise when creating or making your own tracks, the controller and DJ software can help you get surpricing results. The S4 MK2 is sturdy build and is designed very well, also the price is good and the Traktor 2 software is very good, combining hardware and software with this controller, you cannot go wrong. As i like sampling veru much for my own music, this is a creative option to record while just busy having fun with this setup.
The S4 combines a premium 4-channel mixer section, built-in 24 bit/96 kHz soundcard, an intuitive interface, and TRAKTOR PRO 2 software. Pro features, instant usability and go anywhere portability. Includes a versatile, wide-frequency response audio interface. Connect turntables, CD decks, instruments, MIDI gear – anything you need to kick your performance up a notch. Four full-featured, ergonomic mixer channels are each fitted with 3-band EQs, filter knobs, and two FX sends. Filters and EQs can switch between TRAKTOR, Xone, and other industry standard styles to fit your taste. Stems is a completely new way to DJ. A Stem file is an open, multi-channel audio file that contains a track split into four musical elements – bass, drums, vocals, and melody, for example. With each element available independently, you can mix in ways that just weren't possible until now. Create instant on-the-fly edits, mash-ups, a cappellas, and more with hands-on creative control. TRAKTOR PRO 2 is the choice of countless professionals worldwide. Get in-depth control of your music with up to four software decks, customizable interface, and advanced track library management. Trusted by countless professionals worldwide, offers more pro DJ features than ever. Sync with other devices using Ableton Link for seamless back-to-back sets, or to create your dream performance setup across different devices. And get set up at the club fast connects seamlessly to the latest industry standard hardware from Pioneer and Allen & Heath. The layout is designed for perfect integration, all controls feel familiar right from the start. Easily access transport controls, cue points, and trigger loops or Remix Decks. Plug and play control of TRAKTOR PRO and TRAKTOR DJ for iPad and iPhone means the S4 is in perfect synergy with the software – no mapping or control assignments necessary. And if you want to customize it, freely assign unused controls to parameters of your choice from the preferences, all while preserving original plug-and-play mapping.
.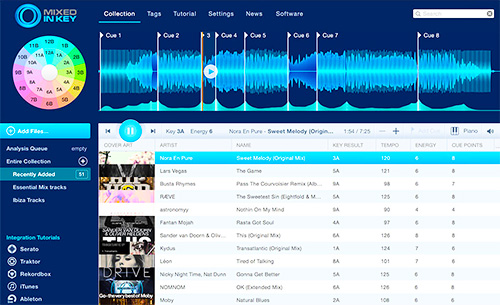 If you are a DJ or becoming a DJ, you need tracks that sound alike and within about the same Musical Key. Mixed in Key is a software program that scans you music collection and sets Musical Key values in the ID tag or within the software you use. Like Traktor DJ (Native Instruments) Mixed in Key generates more info on all tracks. The easy way to find music that kind of matches to each other is a great help for all DJ's struggling with what to play next and not to fuck'up a DJ set while playing live. Great tool at a good price. The softwate comes with some flaws, if the audio file read is bad the software will crash or get stuck.
Become a Master of Harmonic Mixing with the Camelot Wheel. The world's best DJs use Mixed In Key. It analyzes your files, and helps you use Harmonic Mixing so you will sound perfect in every DJ set. Use all the cool tricks used by pro DJs. Use Mixed In Key to prep your music! Mixed In Key scans your music files and shows you everything you need to play a great DJ set. Use our exclusive Key Detection. We save Mixed In Key results in two different formats, like C Minor or "5A".
.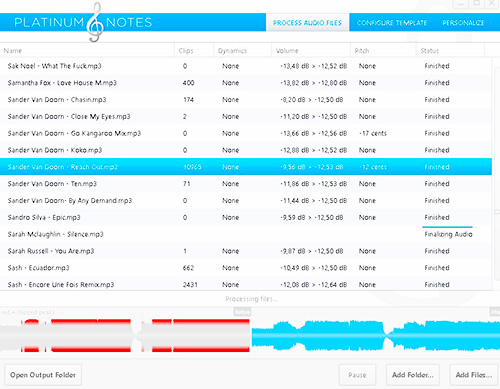 A side by side companion is Platinum Notes and Mixed in Key. Platinum Notes is a one drop fix for audio files alike MP3 that will level each track towards a prefered setting -12.5dB or as set by the user. Second it can correct pitch of the track. The feature to add warmth i have disabled. It takes your music collection and levels it to the desired level set. Corrects all peaks and clips, it can also retune or repitch the track. All in one single pass and some waiting time. Your music collection is set at a good level for listening, especially for DJ's this is very good thing. One thing, the program does have some flaws. The first one when an original MP3 or file was not written correctly beforehand, PN can crash or present an Error. Well this means something is wrong with the original file. Out of 1300 files i first put in, 100 files where bad. So it is kind of easy to pick them out, when crashed see what files are written or not written, so you can see the files that are bad. The error files reported by PN are mostly without any header on the MP3. Long files like DJ mixes can crash the software also, try to avoid them. Not saying PN is buggy, it will get stuck or crash only on files that where bad in the first place. So it will sort out the files that are (where bad beforehand) and now you can do something about them. Also the version PN4 seems a bit old and not updated.
Drop in your music files. Platinum Notes will make them sound perfect. Platinum Notes uses studio filters to process your files. It corrects pitch, improves volume and makes every file ready to play anywhere - from your iTunes to a festival sound system. We designed it to work with music from Beatport, iTunes and other stores. Even if you buy WAV files, Platinum Notes will improve them. Created by the developers behind Mixed In Key. It is currently used by the world's best DJs. Add Warmth to your music for a beautiful analog sound. Visualize the results of Platinum Notes processing at a glance. Save files to MP3, WAV, AIFF, Apple Lossless, or FLAC.
Streamripper Plugin and Frontend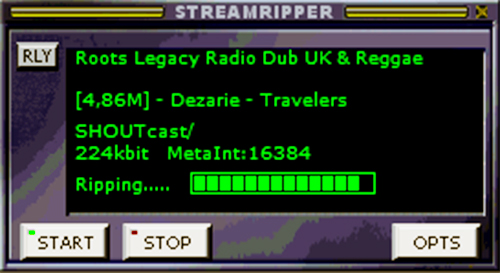 Streamripper is a plugin that can be added to many music players like Winamp or Musicbee, as long as the player supports external plugins. When you open or listen to your favourite radio station online by streaming, you can rip the tracks with Streamripper. Streamripper will save each track as MP3 with their name. That means you can rip hours of music, to your hard drive. This is a very handy plugin for people who need music that might be else not available. It was for me the best way to collect Reggae Dub tracks, that else where almost impossible to download or find. The best thing Streamripper is easy to setup and does all ripping's automatically, just choose your favourite radio station, start Streamripper! Also there are several front end applictaions for streamripper. Though i never used them, i only use Winamp and that works like a dream.
Streamripper was started sometime back in early 2000. Streamripper started as a way to separate tracks via Shoutcast's title-streaming feature. Streamripper has now been expanded into a much more generic feature, where part of the program knows at where one track starts and another ends, thus allowing a mp3 decoding engine to scan for a silent mark or name mark, which is used to find an exact track separation. Streamripper is now part of the FreeBSD standard distribution, mentioned in the Linux MP3 HOWTO. Known to compile on many platforms such as Linux, Windows, FreeBSD, BeOS, OS/2. File sharing protocols such as Napster, Gnutella, Mojonation and Freenet, the Internet user can download nearly any mp3 he wants in a matter of no time.
Streamripper allows you to download an entire station of music. Many of these mp3 radio stations only play certain genres, so you can now download an entire collection of online radio stations, whatever you want.
.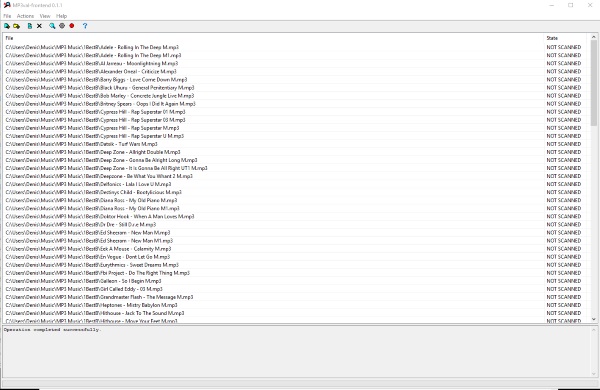 A free software tool to validate and fix MPEG audio files. When you want to scan you MP3 collection for errors, the MP3val tool is great for that. It fixes most MP3 errors and at least show you MP3's that are good and MP3's that are bad in you collection. It is an older MP3 utility, but it is still recommended!
MP3val is a small high-speed free software tool for checking MPEG audio files integrity. It can be useful for finding corrupted files like incompletely downloaded, truncated, containing garbage. MP3val is also able to fix most of the problems. Being a multiplatform application, MP3val can be run both under Windows and under Linux or BSD. The most common MPEG audio file type is MPEG 1 Layer III mp3, but MP3val supports also other MPEG versions and layers. The tool is also aware of the most common types of tags (ID3v1, ID3v2, APEv2). The core component of MP3val is an application with command-line interface. There are also two graphical frontends for it. MP3val-frontend is a native Windows application.
.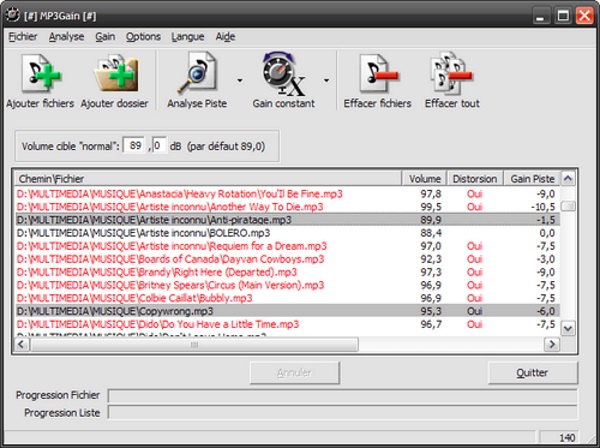 This is a very handy MP3 tool that gains all you MP3 collection towards a normal volume setting. Basiclally i use a setting of 93,8 dB standard is 89 db. While 89 dB is too soft, 93,8 dB seems quit OK. It scans all MP3 files and suggests a gain value that is been written into the TAG of the MP3, most players use the TAG info and use the advised Gain. So you MP3 collections plays without differences in volume or loudness.
Tired of reaching for your volume knob every time your mp3 player changes to a new song? MP3Gain analyzes and adjusts mp3 files so that they have the same volume. MP3Gain does not just do peak normalization, as many normalizers do. Instead, it does some statistical analysis to determine how loud the file actually sounds to the human ear. Also, the changes MP3Gain makes are completely lossless. There is no quality lost in the change because the program adjusts the mp3 file directly, without decoding and re-encoding.
.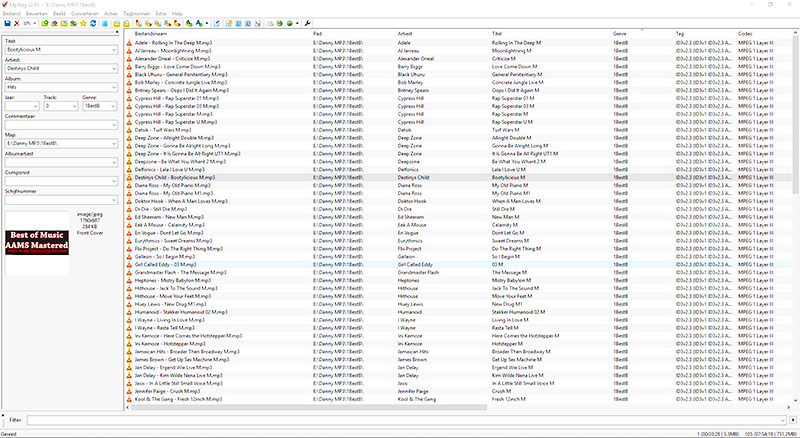 Allright for all MP3 collections to rename fast and group them Artist - Trackname and set them a Genre. To add album covers, just to enhance fast your MP3 collection. It is free and is ver very handy. It allmost work like Total Commander in some ways. Mp3tag is a powerful and yet easy-to-use tool to edit tags of several supported audio formats. It can rename files based on the tag information, replace characters or words from tags and filenames, import/export tag information, create playlists and more. The program supports online free db database lookups for selected files, allowing you to automatically gather proper tag information for selected files or CDs.
.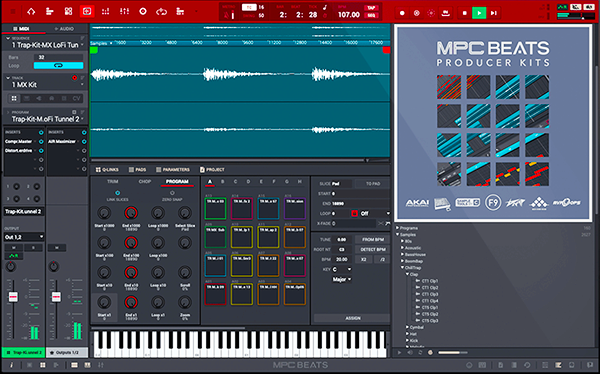 The MPC Beats software is free to download, that is a very good thing. Though i worked only for a short time, this has got a lot to offer for free. I was able to play from my USB midi to the MPC Beats software and there was a very good piano keys inside. The software looks good and works good. So absolutely when you are an Akia fan or MPC fan download it. If you want to try MPC Beats surely it is free and it is very good, works well and you get a lot of sounds also with it. Though not yet fully tested it, i can recommend it, because it is free and it seems to be good. And i can surely understand that Akia wanted to step up par as Native Instruments did, combining software and hardware gear. By far Akai still has the MPC range that is basically up to par anyway. So i can understand if you have Akai gear this software is a very good DAW like addon. Else it seems to be very good software and works with any midi gear as far as i tested it on my Midi Keyboard. With the extra free packs or samples, loops and audio, the Beat is On!
Presenting MPC Beats, the fully featured, beat-making software based on the legendary MPC workflow to quickly make great sounding beats. From the moment you install MPC Beats, you're ready to start creating. Remix one of the included songs, or start off with a genre template like Trap, Dance, Pop and more. Start fresh and select from 2GB worth of content, including samples, loops, and built-in virtual instrument plugins to craft your sound. With MPC Beats, you're in full control of your sound. Experience plug and play compatibility with all class-compliant USB controllers. From MPK Mini to M-Audio Oxygen, Alesis V-Mini and more, get connected with a large list of pre-mapped controllers to get completely hands-on with your beat making. MPC Beats has plenty of power for ambitious creators. Over 80 audio FX plugins to warp, manipulate and transform audio into whatever you can think of. Plus VST and AU compatibility means there's room to expand your sonic palette with compatible third-party virtual instrument plugins and audio processing plugins. You can even record instruments or vocals with 2 stereo audio tracks to add live elements to your music.
.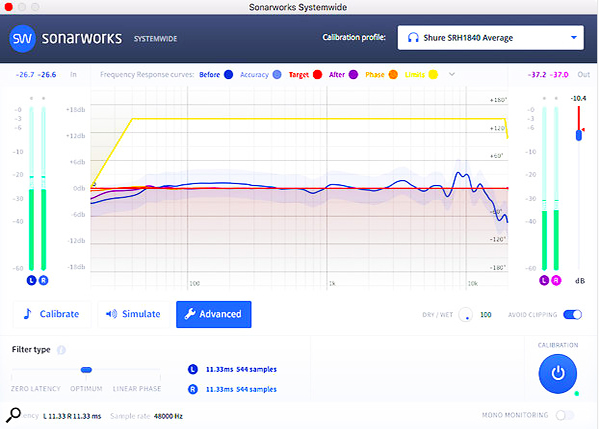 The good thing about this SoundID Reference is that it becomes as a Plugin and Standalone System Application. I mix also on headphones and the headphone i use SONY-V900 was not in the list, a bit of a bummer. The Sony MDR-7506 headphone was in the list, so i bought a new one. By using the SoundID as a plugin as last on you master bus in a DAW, it becomes clear that even the Sony MDR-7506 needs quite a lot of corrections in EQ to get a flat and even sound across the spectrum. Also the first 5 minutes listening to the Headphone and the Corrections SoundID made, was kind of awkward. The base was basically gone and not to say you head anything more clear. And there starts the discussion, does it work or not ? Well, it works and sure when you match you headphone in SoundID you get a better sound. But what they advertise on their website is basically an overstatement. But after a few days a was used to the sound of the headphones and started to correct mixes i was working on. And yes, now that a lot more is evenened out on the headphones, you can at least hear and mix better. With less mix mistakes. Does it take care off all problems ? No offcourse not! But for headphones is one step or leap forward. But the SoundID headphones version is recommended only if you have a matching list pair. The other thing is your Monitor Speakers and the Measuring System Microphone. That can also be very usefull to measure your monitor speakers and get a correction from SoundID. You can make a lot of mistakes by setting up wrong or measuring wrong, so be also here very carefull. But once you measured your Monitor Speakers correctly, it is the same as with the headphones, you need 1 or 2 days to get used to the new sound! You are also here one step forward, but as i mentioned before, do not see the advertisements and texts as very worthy. It works, but it is not godness. I recommend it, but be carefull, the EQ Corrections for people who worked for years and listened for years without the corrections, might be surpriced how much different the sound will be. Some people see this sound change directly as good, some will be negativly be surpriced that maybe now all their old mixes sound so far off as they intented. Set this up and you will realise, maybe you get one step forward, but if you have to now correct all your mixes, that is more work! Recommended, but with a warning.
 Full Confidence in Sound. SoundID Reference software calibrates your speakers and studio headphones.
SoundID Reference delivers consistently accurate studio reference sound across all speakers and headphones so you can mix with confidence and make music that sounds great everywhere. Stop second-guessing yourself and trust every decision. The only market solution providing ultimate accuracy for consistent reference sound between your speakers and headphones. Create music that sounds great on phones, laptops, earbuds, or wherever else its played. Get only relevant feedback by working on the same reference sound regardless of distance or the gear you have. Works in all major DAWs as a plugin and as a standalone Systemwide app calibrating audio across your entire system. Make custom adjustments to the target curve in real time and manually select the frequency range that the calibration will be applied to. Access a library of 20 predefined simulations that will allow to check the mix in different listening environments. Filter modes for live tracking and ultimate audio clarity. Select between different filter processing modes - zero latency for live tracking, mixed or linear phase delivering ultimate audio clarity. Used and loved by 100,000+ studios and 55+ Grammy-Awarded-Engineers worldwide.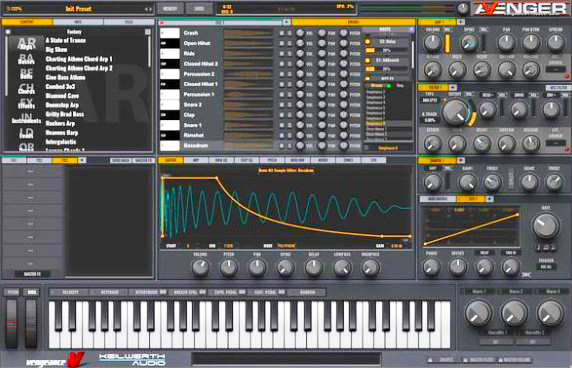 The VPS Avenger is the all in one synth. It can do it all, done it all. It is maybe all you ever wanted. Still it is a synth, and for the specialists it is a synth on steroids. This mainly becomes in the presets factory that uses a lot of effects like delay or reverb. Though everything is there whhat a synth needs. Maybe specially for the EDM Dance Trance music, but that is not so. You can do all what you should expect from a good synth. The only bad thing that i can say, it is kinda processor heavy, specially with presets that are using a lot of voices and effects. Like DAW software processing can be clicky and latency related. For me the sound is allways amazing, if not you can adjust it and sound amezing. A gift made like a diamond. Still this is one you should not have run on all tracks, processor heavy. So maybe sample from it and use it on a MPC, Machine or any sampler to create nice sounding instruments. It is good!
VPS Avenger, Vengeance Producer Suite facts. Meet our new alpha and omega of synthesis: Vengeance Producer Suite Avenger is here! The most versatile and best sounding synth you will ever encounter. There is nothing VPS Avenger can't do, it offers you tons of features and a gigantic growing library from some of the best sound designers on this planet.